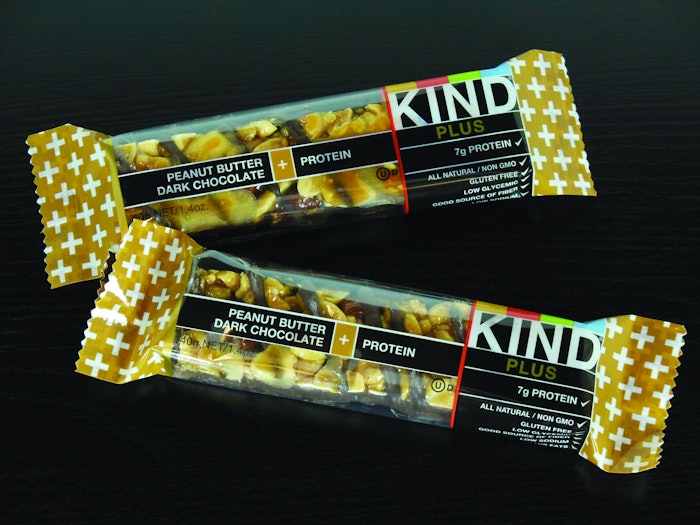 With 29% of Americans seeking out snack, beverage, and food products with higher protein content, consumers are clearly looking to increase their protein intake. This increase in demand is driven by several factors, including the consumer's desire for weight loss and satiety. According to a 2012 survey from the International Food Information Council, nearly three out of five American shoppers consider the protein content when buying packaged food or beverages. For marketers and brand owners in grocery and convenience store channels, high protein has become a highly competitive opportunity.
What can you do to set your high-protein product apart? Learning the intricacies of what consumers value and what drives their purchases will help you differentiate in this crowded marketplace. By including a holistic approach to your packaging research during your product development strategy, you can accelerate the purchase and have greater differentiation. The holistic approach examines consumer needs and channel and supply chain alternatives very early in the product development process. By first uncovering consumer needs, their key purchasing drivers will be revealed and will give you a more comprehensive understanding of their motivations. 
Simply imitating a trend cannot ensure success—that's why it is important to examine the purchase drivers and explore the need behind the need. The consumer insight component of holistic packaging research work focuses on gaining a deep understanding or explanation about consumer behaviors. By definition, insights involve either a cause-and-effect, or an introspection, to discover what is not immediately clear. Underlying the observable behaviors of consumers, such as a purchase decision, are complex emotional drivers strongly influencing their decision-making. Examples of these types of drivers might include a desire to attain wellness, or to avoid extra effort; these drivers would be at the root of trends like high-protein shake or snack-bar consumption. To develop packaging that sells, it is critical to understand and connect to the emotional drivers behind the behaviors.
Dimensions of desire
For the high-protein category, something like wellness is obviously a main purchasing driver, but there are several dimensions that drive this desire. Perceptual motivators like "nutritionally sound," "fresh," and "created for me by experts," add depth and believability to a brand's relationship to consumers. Understanding these dimensions is vital to sales performance on the retail shelf.
This holistic approach to packaging research aligns brand attributes to the motivations and drivers of consumers. By looking at packaging at each level of consumer interaction, including material selection, auditory cues, data from in-store shop-alongs, and online validation, in addition to graphics or color cues, you can comprehensively understand how consumers perceive the product, brand, and packaging in a connected equation. And, most important, design your product packaging accordingly. Now, let's take a look at a few real examples of high-protein brands successfully utilizing these additional dimensions.
Fresh
Packaging for Kind Bar's Peanut Butter Dark Chocolate + Protein bar variety was designed to deliver the fresh and natural message and specifically to allow the protein bar to show through on the front and back of the package. The whole nuts speak for themselves. Strategically designed graphics with the plus symbol further reinforce the 7 grams of protein. This is a classic example of a high-protein product appealing to the "fresh" purchasing dimension.
Nutritionally sound
Muscle Milk is an example of a product that strongly connects to the "nutritionally sound" dimension. The structural design of the bottle is strong and tall, which reinforces the positioning of this product. The nutrition messaging is clear, and one can quickly identify the 25 grams of protein. The brand name, Muscle Milk, itself appeals to the idea that this product is fuel for your muscles. The product name, "Protein Nutrition Shake," is distinctive and unique, and clearly reinforces the nutritional benefits. 
Created for me by experts
"Created for me by experts" is a dimension that connects with authoritative knowledge or expert skill in a particular area. Who better to deliver a high-protein beverage than the creators of Gatorade? The Gatorade brand is positioned based on the scientific design of the product, and Gatorade's Recover Protein Beverage is a great example. The graphic design of the Gatorade G instantly grabs the shopper's eye on the shelf. The 20 grams of protein content is the first benefit presented right on the cap. There is an instant trust factor on the shelf, and the custom, ergonomically designed PET bottle has an appealing hand feel. The bottle's structural design is optimal for an athlete to consume during a sports event. This delivers a "why not try it" for the consumer, who is seeking to try a high-protein shake.
It's the packaging that often brings the consumer the deepest brand experience. Taking a holistic approach to developing the packaging and utilizing consumer insights is critical to the process. Understanding consumer desires from a brand's message along with packaging can boost success at retail and turn your brand into the next superstar.
Lisa Baer is Senior Director of Market Innovation at Packaging Technology Integrated Solutions,
a division of HAVI Global Solutions.