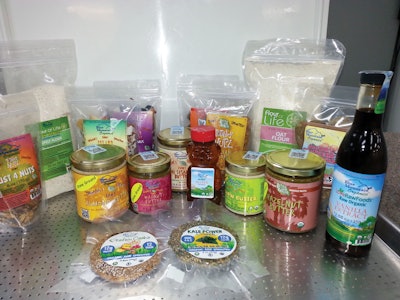 Blue Mountain Organics, Floyd, VA, is a premier provider of certified organic raw and sprouted nuts, nut butters, flours, grains, and dried fruits available through selected retail outlets and online (www.bluemountainorganics.com). The company uses a broad range of packaging structures and sizes to accommodate these products.
Blue Mountain co-owner Peter Houchin notes, "Blue Mountain Organics carries more than 400 products—all of which are made or packaged at our Floyd plant. We are continuously adding and changing products to augment and improve our product lines. Frequently, we are testing new products in small batches. We had been using LX800/810 ink-jet label printers from Primera Technology, Inc. to supplement our commercial preprinted label supplies. The LX800/810 printers performed well but were not fully meeting our increasing production pace and printing versatility needs. We basically used them for special runs and emergencies rather than as an integral part of our operations.
"But our commercial printing system also has its drawbacks and can be very cumbersome. Turnaround time to receive the ordered preprinted labels is not always optimal. And the fact that we are required to order at least the supplier's minimum quantities, whether we need them or not, often results in our having a surplus inventory of labels that we end up throwing away. So, about two years ago, when we had a chance to upgrade our labeling operations, we looked to Primera for advice to deal with some of these label logistics challenges."
Primera suggested its high-resolution ink-jet four-color LX900 color label printer, capable of providing fast, on-demand labels, printable on various pressure-sensitive substrates. While still better suited to low-volume runs, these printers offer major advantages. For example, there is an individual ink cartridge for each color—cyan, magenta, yellow, and black. So the user only needs to replace one color cartridge at a time, not wasting unused ink. And the printer's Primera Imaging Perfection™ technology can reproduce razor-sharp photos, graphics, text, and barcodes in resolutions up to 4800 dpi. For relatively higher production volumes, multiple LX900 printers can be controlled and operated from one desktop computer location.
Houchin says, "All our small-volume runs are now printed in-house on the LX900 system, and our primary ink distributor is WYNIT Distribution, LLC. We still use commercial label printing suppliers for our higher-volume items. The cost of printing the short runs is a little higher, but the added printing flexibility more than offsets the cost difference. The trade-off is more flexibility, less downtime, and ease of operation. And the LX900 print speeds leave our previous 800 versions in the dust. We print many label sizes, from 100 x 150mm to 600 x 400mm, so the printing speeds vary depending on label size. For example, typical speeds with the LX900 for our 4 x 3-in., 4800-dpi, four-color labels with all of the graphics, product info, and coding are about five or six per minute."
Due to its broad and diverse product offerings, Blue Mountain needs to change the label stock frequently. The LX900 has the versatility to accommodate these changes. Houchin explains, "We use bags, jars, and bottles in a lot of different sizes. Blue Mountain uses p-s label application equipment from Chabot Delrieu Associes. Labels are multi-colored with variable graphics and include UPC barcodes, nutrition information, and organic certification information. We also do some generic products that need special labeling. Obviously, we need a flexible label printing system to meet all these needs.
"Our direct contact with Primera has been limited, but their sales and tech people are knowledgeable and helpful. Primera's website offers excellent troubleshooting advice, and that has always been sufficient for our basic issues."
While Houchin is pleased with the overall effectiveness of the LX900 label printer, he says he'd like to see the Primera ink cartridges bigger so they wouldn't have to be changed as frequently. He also is pleased to learn that Primera offers a spooling device (the RX-12) to roll the labels coming from the printer, making label storage and usage more convenient.
Companies in this article