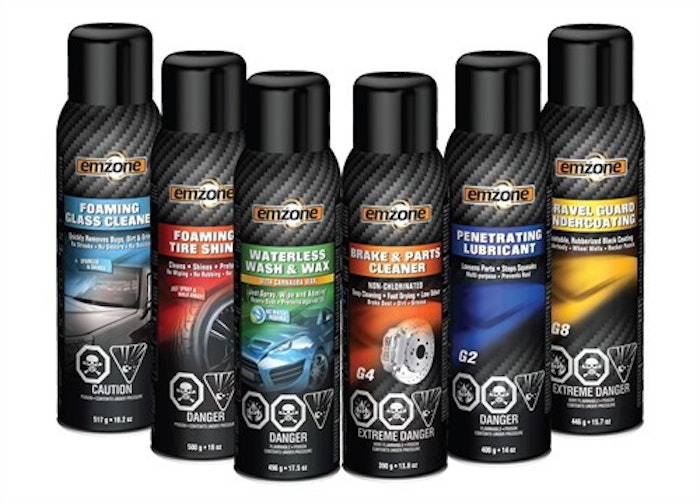 A new package design for Empack Spraytech's emzone line of automotive appearance and maintenance products has caused a "spike in engagement" across all of the company's social media sites, as well as strong repeat sales. Moving from trade channel sales only to the addition of retail distribution, Brampton, ON, Canada-based Empack redesigned its aerosol packaging—described by Director of Sales & Marketing Cameron Brown as "very generic looking"—to communicate the products' quality and performance, and distinguish it on shelf from other offerings in the category.
"From our research, we found many competitors had a standard design, layout, and look for all of their items, making it difficult to distinguish one product from another," says Brown. "Our objective was to create a design that would strongly differentiate us from the competition and stand out at retail."
The design process involved collaboration between Empack and a proprietary outside designer and initially involved a change in the structure of the aerosol can used for the company's 23 SKUs. The original design consisted of a straight-wall steel can; the new structure is a round-shouldered aerosol from DS Containers. A change was also made in the label format from a pressure-sensitive label to a full-body shrink sleeve. Says Brown, "This, combined with a new graphic design, has resulted in an exciting new look for the emzone auto care product line."
As for the graphic design, Empack incorporated the look of black carbon-fiber polymer in the background with a dash of bold color across the front of the can in the form of a blurred silhouette of an automobile. The colors call out the brand sub-categories, such as green for Rust Protection and red for Tire & Rim Care, among others. "We also added images or icons to further help consumers distinguish between products and identify their use," explains Brown.
Since the appearance products were re-launched in spring 2013 and the maintenance products in fall 2013 in Canadian auto-care stores and in the trade channels, Brown says the response from both retailers and consumers has been "excellent." Especially notable has been the increase in traffic on its social media sites.
Adds Marketing Coordinator Nicole Ferreira, "There has been a spike in engagement across all of our social sites, resulting in our brand having a higher Klout Score [a number from 1 to 100 that indicates influence] than competitors that have been in the business for several decades. All this activity and support began shortly after the launch of the new packaging for our appearance products. It's amazing to see how much of an impact the design of a package can have on the success of your brand."