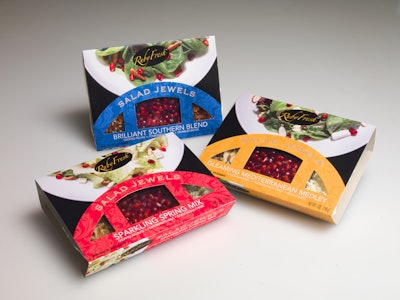 Pomegranate arils are the key ingredient in a new line of salad kits packaged in elegantly decorated chipboard sleeves, in a 7-oz club-pack and a 3.5-oz single-serve size. Firebaugh, CA-based pomegranate producer Ruby Fresh introduced its Salad Jewels line in spring 2013 to meet consumers' rising interests in healthy eating and in quick, convenient meal options as well as to capitalize on the growing popularity of pomegranate arils.
"We had previous experience and success with our full packaged line of pomegranate arils," says David B. Anthony, Domestic Sales, Ruby Fresh Pomegranates. "Our Salad Jewels line allows the natural progression and maturity of our product line to be appealing to new customers in a vast, new venue."
Salad Jewels includes three varieties: Sparkling Spring Mix, with arils, chopped walnuts, and gorgonzola cheese; Gleaming Mediterranean Medley, with arils, sliced almonds, and Feta Cheese; and Brilliant Southern Blend, with arils, sliced pecans, and crumbled bacon. The 7-oz version includes 4 oz of pomegranate arils, and 1.5 oz of other ingredients, while the 3.5 oz has 2 oz of arils and 0.75 oz of nuts, and cheese or bacon. All ingredients are individually packed in a proprietary clear film that allows for respiration/off gassing after packing.
Secondary packaging comprises a chipboard sleeve made from recycled materials, die-cut with three windows that form an arch that offers consumers a view of the fresh ingredients within. Says Anthony, "We were looking for an inclusive presentation that took our traditional aril pack to an over-the-top solution for on-the-go families and consumers who want a high-end, high-quality variety pack that is not your run-of-the-mill salad-topper option."
The rectangular package is said by Anthony to allow for the "maximum volume of ingredients, shelf space, and cube," which he says lowers the per-unit shipping cost.
Elegant graphics were designed by Marketing Plus to reflect the fresh and unique nature of the product. "Using bright, cheery, eye-catching colors, Marketing Plus gave each flavor within the line its own color for easy visual recognition," says Anthony. "In addition, the clear, see-through windows that show the different ingredients were custom-designed, giving the overall package a contemporary, yet classic, look." Photography of a fresh, plated salad dressed with the salad kit components is shown at the top of the package, against a black background.
Anthony says the chipboard material had to be dense enough to hold the heavy ink coverage and provide a high-gloss finish that looks crisp and clean on retailers' shelves.
Ruby Fresh Salad Jewels are sold at supermarket chains H-E-B in Texas, Lunds in Minneapolis, and Sprouts Farmers Market in the southwest, for an average retail cost of $6.99 to $7.99 for the 7-oz version, and $3.99 to $4.99 for the single-serve option.