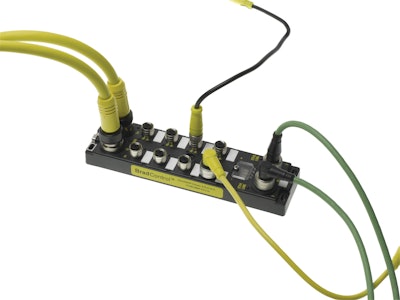 Advanced Manufacturing Technology is a maker of air conveying systems used to transport lightweight bottles and cans across distances ranging up to 1,200 ft. All along these lengthy conveyor connections are sensors that need to send information back to a controller—typically a Rockwell ControLogix platform—so that the controller knows when the containers being conveyed should be advanced and at what speed.
Beginning around July of 2012, AMT began using Brad HarshIO harsh-duty I/O modules from Molex to optimize the flow of information from sensors to controller. Each module has eight ports, and each port is capable of handling dual I/O, so it's a 16-point I/O module. It has a web-embedded server in it, too, so that it can be programmed to take discreet inputs and outputs. Inside the module is a Rockwell-certified Ethernet IP switch, so the module acts as a communications node on the Ethernet IP network.
"We place one of these Molex modules every 60 feet along an air conveyor system," says Rodney Talbot, VP Manufacturing at AMT. "It's remote I/O, which means I don't have to stretch a wire from each sensor and terminate it in the control cabinet just to get a signal from the sensor to the controller. The signal goes into the Molex module and then along Ethernet IP to the controller. Because I don't have to pull a wire for every input and output, on a typical 1,000-foot system I save about a week's worth of crews pulling wires. Customers like the reduced installation time."
According to Talbot, short lead time and attractive pricing were key attractions as Talbot evaluated the Molex modules against others that might have been specified. The lead times are short by design, says Dan Bagley of Molex. "We put a custom stock program in just for AMT," says Bagley. "They're building so many systems so quickly, but they were being held back by their previous supplier's inability to meet their lead time requirement."
Another performance capability that sets the Brad HarshIO module apart is a scrolling LED display that makes it easy for a service person to see if there is a fault in one of the sensors on the line. Plus these modules have a 300-millisecond start-up time that's said to be faster than comparable remote I/O modules and they are easily washed down.
Companies in this article