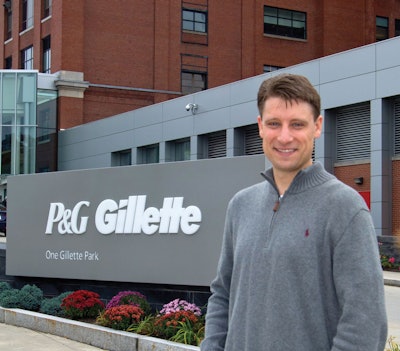 Should it be any surprise that Procter & Gamble, the world's largest consumer packaged goods company, has cleaned up in the last three editions of the DuPont Awards for Packaging Innovation? The Cincinnati-based firm snagged the top Platinum award in 2011 for its Gillette Fusion ProGlide package. It then scored a Silver Award for Tide Pods in 2012 and another Silver in 2013 with its Gillette Venus & Olay razors for women.
Heavily involved in the design and commercialization of both the Gillette brand winners was a talented team that included Mike Marcinkowski, Principal Engineer R&D, Global Pack Dev, at Gillette. The Fusion ProGlide was a sustainable packaging breakthrough involving whole new materials and molded fiber pulping processes. And the Venus & Olay package is a miracle of thermoforming prowess that also has a strong sustainable packaging message because of its use of recycled PET and design innovations.
We asked Marcinkowski if he would provide this December's View From The Top, and he kindly agreed. Here in Q and A format is a conversation we had with him about all things packaging now and in the future.
Packaging World:
Tell us about your background. How long have you been at Gillette?
Marcinkowski:
I'm a '98 grad of Michigan State's School of Packaging who started my career in the consumer computer business. I've now been at Gillette for 14 years. I report into P&G Pack Dev out of Cincinnati, but I work for a business unit here in Boston, while finding ways to connect and develop among my peers in PackDev Cincinnati. It's a great position with many opportunities globally.
In an earlier conversation you mentioned something about Friday afternoons being a time to tinker at Gillette. What's up with that?
Gillette senior leaders heard a desire expressed by senior engineers, and in response they delivered a time to tinker every Friday afternoon. So every effort is made to avoid any meetings on Friday afternoons. Projects and executables get the focus, and time to play is encouraged. It's aimed at both senior engineers and younger ones, or teams of both, who need to develop and grow and explore their ideas and drive a teaming atmosphere to deliver execution. So on Friday from one o'clock on, it's a no-meetings zone here in the R&D community. It's good to have some time to tinker.
We hear a lot about smart packaging these days, but sometimes you have to wonder if it's more hype than anything else. What's your view?
Smart packaging is showing tremendous promise and growth. For example, look at the Heineken bottle that lights up. Recently launched in Europe, it recognizes music and beat patterns and lights up accordingly. And there are other examples in the spirits industry you can see emerging. I believe, as a packaging science guy, that this technology will help drive that stop and hold power you look for where the consumer meets a package on shelf. Think about how much we ask packaging to do and deliver at the shelf in the brief amount of time that's allowed. This new technology can only help. I think it will help educate consumers about what's new in the world of our products. It will better announce key messages and product attributes while creating a buzz. It will drive some of that stop, hold, and close element that is so important in the consumer world.
But how do we get past the cost hurdle that currently keeps smart packaging from breaking through?
My belief is that the cost structure will come around and pan out. There are many areas to play, and the cost of packaging materials involved shouldn't be the only perspective. I believe advancements will deliver the desired impacts within acceptable cost parameters. At Gillette we sell premium products, and the total cost of the packaging is an important factor when allowing the product to come to market. But I do see some things in the near future that will help deliver what is needed to be successful. Traditionally a key driver of cost has revolved around the power source. Things coming down the pike will address that, and I've seen them at tradeshows recently.
The other technology we hear about is printed electronics, which is probably a subset of smart packaging. What do you see there?
Printed electronics is huge and growing fast. I personally have a passion in this area, and I've been watching this space pretty closely. The inks and chemistries have come along quite far, to the point where I have seen vehicles that can be stretched, formed, and bent in ways that allow things not possible in the past. This will permit application of these technologies in ways that are scalable and can be delivered through traditional production processes. To get a hint of what might be feasible in packaging, look to Ford and what they're doing with their dashboards, or Hallmark cards and their innovations. McDonalds, too, has used this technology, even in happy meals. It's a matter of matching up with the right suppliers and being creative.
What about trends in packaging that you might be seeing?
Platforming and reduction of complexity are huge buzz words. By "platforming" we mean trying to identify materials and processes that, because they're repeatable across applications, allow you to simplify your supply chain and operations. Quick-change capability, for example, or in-and-out types of assemblies that allow you to reduce changeover time. Finding materials and machines that allow high automation, high output, and also leaning on designs that are less complex so that quality can constantly be delivered. Higher efficiency materials are important. We look for ways to find commonalities among packages. We call it "bridging," which is reaching that crossroad point where you can rely on packaging as the enabler of simplification. I definitely expect to see more use of decoration technologies to deliver high impact in terms of branding message and product offering—but at low costs. Here in our packaging development organization we constantly talk about how do we get more for less? I see more emphasis on simpler material design and faster execution. Sustainability is also a constant topic of discussion, and the drive to win in this area is a common theme.
Does computer modeling play into this?
Absolutely. We've tapped into it to drive predictive measurements. It's pretty much an industry standard.
What about In-Mold Labeling? I think it's been more prevalent in the food industry, where it seems to be making some inroads.
I see this as a strong area of development, and I saw many advances recently at Pack Expo Las Vegas. I see some interesting IML work going on in what's called smart labels. Labels that provide feedback to the consumer, or a best-by date that is electronically communicated to the consumer. There's lots of opportunities in this area if you can creatively bridge technologies and think outside of the box.
What about the molded fiber technology that Gillette helped pioneer with the Fusion ProGlide?
I think the molded fiber category will continue to grow and develop. It's a pulping process, but the feedstock is as simple as bamboo, bulrush, sugar cane, or wheat straw, for example. You can source it from a variety of plant matter—you just need to be smart on your selection. Material composition depends on your design and performance criteria. Components used for Gillette packages are based on our package qualifications and consumer insights. With molded fiber as an alternative to plastic, you move to a package system that's not only made from renewable resources but could be compostable, too. There are also some benefits around conversion. We're building off what we introduced with Fusion ProGlide in 2010. So that word "platforming" comes up again.
What else can we expect to see in the way of sustainable packaging?
At Gillette I stay focused on thermoformed blisters—clarity is king. We'll have some things coming out soon, but I don't think we'll be issuing press releases. This should be a standard way of development. It will be pretty much invisible to the consumer, as the material won't look different or perform differently than traditional thermoformed material. We have internal sustainability goals we're trying to reach, and these new packages will help us in this regard.
What about recycling? How can Japan recycle PET at an 80% level while the U.S. struggles to reach 30%?
Asia and Europe have always been more advanced in recycling, partly because they incentivize the consumer. Collection and sorting systems are well established, too. Here in the U.S. there is improvement, but we're obviously behind. There's potentially a lot of money to be made in recycling, and Asia and Europe have figured that out. We've been involved in PET recycling by the way we utilize Placon's Ecostar material in the Venus & Olay line. Placon has a closed-loop system and internal extrusion capability. They buy a lot of our scrap material back and we get credit for it in our parts piece cost. Generally, the U.S. needs to identify a system that will motivate consumers to recycle.
Your mention of Placon's work on the Venus & Olay package brings up this question: How would you describe the role played by the supplier community when it comes to innovative packaging?
A lot of the R&D work that I do can only be executed and sent to market if key suppliers are engaged and have the will to R&D themselves. I have a core group of vendors I work with and I rely heavily on them to bring our ideas and concepts to life. Without that partnership, how could we execute on anything? Cost models, ongoing quality, other deliverables—they're all important. Our relationships with key vendors have been carefully developed over the years. We have some vendors in the Gillette community who have been around longer than I have. It's a matter of creating trust and keeping communications open. That's how you deliver on R&D projects. I value all they bring to the table as a partner.
Some would say the personal care/HBA/cosmetics sector, the space where Gillette operates, has lagged behind other sectors like food and beverage where progress in sustainable packaging is concerned. Would you agree?
The expectation in that sector is premium, premium, premium—meaning no offsets. Also, product life cycle is different. Think of a makeup container, for mascara for example. That container resides in the consumer's home for a long period of time. That calls for a different type of packaging vehicle than what you can expect to find in food and beverage. Another thing to keep in mind is that in many cases in this category, the product is the packaging. So even if the recovery value of the packaging material used isn't necessarily all that high, oftentimes the design of that package allows the elimination of various levels of secondary packaging. Times are changing and advances in materials and technology will change this statement and drive a different perception.
What would you say is the biggest recent breakthrough in packaging?
For me it's been some of the things we see happening in those fiber-based as opposed to petroleum-based thermoforms I talked about earlier. Expect some new announcements from companies using this technology in the near future. The technology is advancing in terms of better tooling and processing methods both, and it's Be Green Packaging, a commercial pulper of the fiber-based materials, that's driving it.
What else should we expect to see in the near future?
Coming on strong are advancements in printing and decoration capabilities. Printing that gives the package depth and pop. It can be done via traditional printing methods, making it very cost effective. Stay tuned is about all I can say. It's a new technology. Our group internally has many world-class engineers that specialize in this area, and the results are mind-blowing!
Any thoughts on 3D printing?
A lot of it is used for conceptual work and prototyping. It's a huge part of that whole speed-to-market idea, because it puts a part on the table so quickly.
What about packaging's place at the table? Does corporate America understand and acknowledge the contribution made by packaging and give today's packaging professionals the respect they are due?
P&G has always valued packaging and what it brings to the table. That's one of the things that makes my job so exciting and continually drives our group to innovate. So packaging professionals always have a place at the table, as long as we're delivering what the business wants and the consumer desires. I always view Consumers, Marketing and Finance as my customers. And I see packaging as being more than packaging in the sense that it has to take into account Marketing, Financial, Business Planning, and Quality. What are the business needs and how do we in packaging drive innovation/development and connect the dots to deliver against those needs? Quality Assurance needs have to be accounted for, too. We need a good understanding of how to manage and deliver product with high quality and efficiency. In other words, packaging is so multi-faceted and multifunctional. You have to wear a Quality hat, a Business hat, an Engineering hat—all while delighting the consumer. How do you build connections and bring people together to build something new and then take that concept from a sketch on a napkin to something displayed in a store—that is the role of a packaging engineer. There are a lot of skills and networking that need to be behind it. That is what makes a career in packaging engineering so unique and rewarding.
Many people are worried about workforce development as the baby boomers begin to retire in waves. Any thoughts on this potentially vexing problem?
One thing to remember as we plan for the future is that in packaging there are desk jobs and hands-on jobs. An organization needs people who can do both, so that what you wind up with is a balanced mix. Hopefully the workers of the next generation are picking fields that they have an interest in and that they can do well in based on their own internal drive. One thing I like to do here with our younger engineers is make sure they get down to the floor to see how machines run and how materials react and perform in different situations. Don't ask me 90 million questions, don't ask me to tell you the answer, just go down to the floor, fire up a machine and experiment. See how things actually work. Get those hands dirty and don't be afraid to fail. Then learn and apply to be successful.
Any concluding remarks?
It's an exciting time to be in packaging, especially just coming out of Pack Expo where we were reminded that technology is advancing so rapidly every year. We'll see some fascinating things, in everything from packaging materials to systems and equipment, in the coming year or two. In the past five years, the amount of advancements we've seen in packaging science has been phenomenal. Startup companies are looking for a place at the table and are eager to develop. It really is an exciting time to be in packaging.