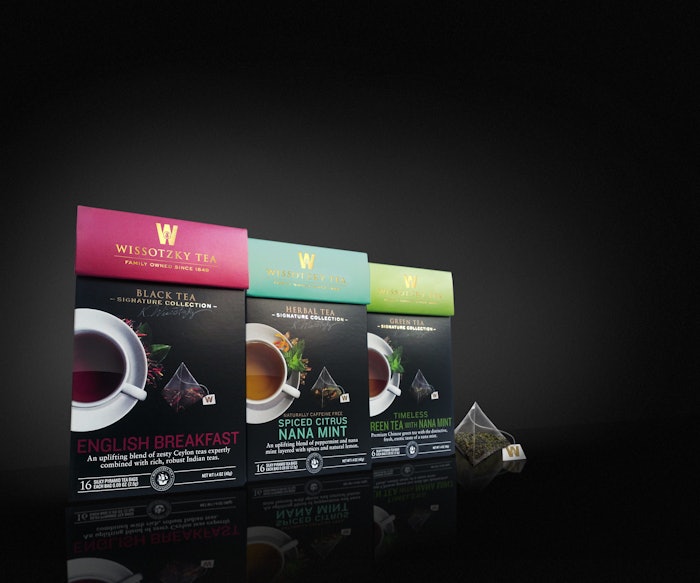 To break into the North American market with its line of Signature Collection teas, Israel-based Wissotzky Tea relied on the help of U.S. companies Beardwood&Co. and The Green Seed Group to guide its brand strategy and create packaging that appealed to U.S. consumers' growing interest in specialty teas. A family-owned company established more than 150 years ago, Wissotzky Tea is known for its exceptional quality blends among tea connoisseurs worldwide.
"Wissotzky Tea has delicious blends and an authentic heritage story," says Julia Beardwood, founder of brand and innovation firm Beardwood&Co. "The challenge was how to best tell their story to U.S. tea drinkers and help the brand stand out in a crowded category. We discovered that American tea lovers were impressed by the true history of a family of tea connoisseurs that has been creating outstanding teas since 1849."
Working with The Green Seed Group, a company that helps international food and beverage brands enter the U.S., Wissotzky identified a market opportunity between the premium and super-premium segments: a tea more special for everyday use without being overpriced.
In the competitive tea section, Wissotzky Tea stands out with a sophisticated, simple package design featuring an iconic teacup against an elegant black background. According to Sarah Williams, Partner/Creative Director at Beardwood&Co, "Unlike most tea brands that focus on tea ingredients or illustrations, the Signature Collection has glamorous photography of the pyramid silk tea bags and an overhead view of the teacup to appeal to people on an emotional, visceral level. It's a personal invitation to take time out and have an amazing cup of tea."
The black background is used as the unifying brand color, while bright, color-coded lids create a billboard effect and identify the 10 flavors. "We also adapted the logo for the U.S. market by incorporating the family crest (a ship) within the gold-embossed logo and adding a signature of Klonimus Wissotzky, the company's founder, to reinforce the brand's heritage," Williams adds.
Beardwood used the back panel to further tell the Wissotzky family story. Says Wissotzky Tea USA General Manager David Cohen, "Beardwood contributed their thinking and understanding of the category in the U.S., which was crucial to successfully translate and communicate our messages and values. They understood how consumers perceive the category and how to create differentiation from other brands."
Companies in this article