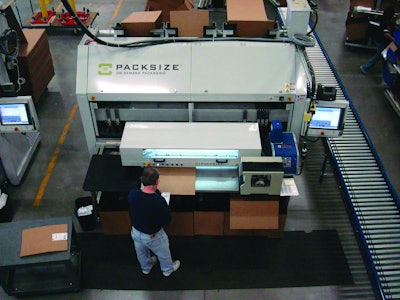 Headquartered outside of Boston, Staples, Inc. is the world's largest supplier of office products, including office supplies, technology, furniture, copy and print services, and cleaning and breakroom supplies. But what many people may not realize about the organization is that it is also the second largest e-commerce fulfillment business in the world after Amazon. Each day, from its U.S. fulfillment centers, the company ships between 650,000 to 1 million cases, operating under a robust logistics system that guarantees that any order placed before 5 p.m. each day will be delivered the next day to 96% of the population.
Eleven years ago, as Staples senior vice president of Supply Chain & Logistics Don Ralph relates, the $24 billion company implemented a culture of Perfect Order, and since then it has made tremendous strides in order fill rates, on-time delivery, quality, and accuracy. "But the one issue that had been bubbling up," he laments, "was packaging." No matter how efficiently from a cost standpoint Staples packaged its orders, consumers felt there was too much waste.
In November, Staples announced it had begun a system-wide rollout across its U.S. fulfillment centers of the On Demand Packaging® system from Packsize Intl. Once fully deployed, the solution—referred to by Staples as "smart-size packaging"—will allow the company to create a custom case size for every single less-than-full-case order it ships, or approximately 40% of its order volume. This more efficiently sized packaging will not only suit Staples customers' desire for less packaging waste, but it will also result in significant reductions in material use, warehouse space, and transportation costs for the company.
As of late 2012, Staples had deployed the new system in 12 of its U.S. fulfillment centers, and Ralph says the company hopes to complete installation of the solution in all of its U.S. facilities by the end of 2013. [As of presstime, Staples declined to specify exactly how many fulfillment centers it operates in the U.S., as "the network is constantly changing."]
"It is very exciting," says Ralph. "This has been a pain point for our customers that we have been able to solve, and we have seen great responses from customers in those places where we have already deployed the system. Many times when you make investments in your supply chain, you are competing for capital with other parts of the company. This is one of the few times where the business unit heads are pushing the supply chain to implement the solution faster because it's been such a win-win for everybody."
Server-based integration
One of the first 12 buildings to adapt the new custom case-making solution is Staples' Oak Creek, WI, facility, a bustling, three-shift fulfillment center that packs and ships an average of 3,500 cases/day. In August 2012, the 285,000-sq-ft facility began operation of two Packsize EM7 corrugated converting machines, each capable of producing up to 300 cases/hr.
The EM7 is a CNC-controlled converting machine that creates custom cases from Packsize's proprietary z-Fold™ corrugated stock, a 97% recycled material that can be creased, cut, and scored into an infinite number of box sizes and styles. The EM7 can produce boxes in widths ranging from 10.63 to 94.49 in., and in thicknesses from .08 to .31 in. (i.e., E, B, C, B-E, and B-C Flute).
According to Packsize CEO Hanko Kiessner, the only limitations on the size of box that can be created with the unit are those imposed by the fulfillment system in which it travels. "From a Packsize equipment perspective, we can make a box for a couch or a gigantic conference table," he says. "The constraints are more dependent upon what can travel through a building than on the equipment."
When Staples first considered the viability of the Packsize system for its high-volume case-making needs, one major requirement was the solution's ability to keep pace with Staples' current order cycle times. Says Kiessner, "We could not reduce Staples' ability to meet its customer service in any way. One of the primary challenges was the total speed."
To address this issue, Packsize adapted its On Demand Packaging technology to interface with Staples' order management system to automatically calculate via an advanced algorithm the optimal box size for every incoming order and route it to not just the proper fulfillment center, but also to the most suitable machine at that center. "This is the ingenious part of the solution," says Kiessner. "So there is no labor interface anymore."
Further, the software can match up orders that can be produced side-by-side on a specific machine to increase equipment throughput and maximize corrugated yield. The EM7 is available in both a single-track and a multi-track version, which allows it to accommodate either a single 7.87-ft track of corrugated z-Fold, or up to four corrugated tracks of differing widths, respectively.
At the Oak Creek facility, each machine has been equipped to handle three tracks ranging in width from 185⁄8 in. to 29 in. According to James Norkus, fulfillment center manager for the location, during setup of the equipment, Packsize worked with Staples on an analysis to determine which widths would be used most often by the center. Thus, both machines are equipped with at least one track of 185⁄8-in. corrugated—the width that is used to produce the majority of cases on each machine. Norkus adds that Staples can easily change the track configuration on the machines if required.
Custom cases for each order
Before installing the new case-making solution, Staples' Oak Creek facility employed four different case sizes to accommodate the 12,000 SKUs picked and packed from its center. The cases were erected on case-making machines and manually taped by operators who supplied them to the fulfillment operators in the warehouse. Because of the limited case-size options from which operators had to choose, many cases were topped off with air pillows to fill out the case.
This system also required Staples to keep an inventory of case blanks. Says Ralph, "This takes up space in your facility. The more material you have to stock, the less merchandise you can have at a fulfillment center."
With the new system, Oak Creek orders the z-Fold corrugated by the cubic foot from Packsize. Because Packsize operates a corrugated facility not far from the center, Staples does not keep much inventory in stock, says Norkus. According to the Packsize Web site, the typical lead time for ordering corrugated is "three business days to produce, plus normal transit as soon as the order is received."
When a customer places an order with Staples, it is received by a centralized server at the company's headquarters, where the order management system puts it through a number of filters to validate product availability, determine fulfillment center, etc. Using the Packsize algorithm, the system looks at the length, width, and depth of each order—using the dimensions of each SKU in the order—and calculates the optimal box size. According to Norkus, when the Oak Creek location set up its Packsize system, most of the SKU measurements were already available through its warehouse management system. Currently, the location is using the Packsize machines to produce 151 different box sizes.
Orders are also evaluated according to when they chronologically must be shipped from the fulfillment center, with those orders that have to travel the farthest sent to the Packsize system first.
After calculating the case size and shipping schedule, the system sends the information to the proper fulfillment center, machine, and corrugated track, where a case is produced at speeds to 1.7 sec/box. At the same time, a shipping label is printed from a Zebra 140Xi4™ industrial printer positioned near the front of the machine. The label includes the shipping address, hub information, Staples address, and a bar code/license plate used for picking. After the flat case blank exits the machine, an operator inserts the edges of the case into the Packsize Auto Gluer II equipped with Nordson melter, and then applies the shipping label. The labeled, un-erected carton is placed in a stack on a rolling cart, ready for use by a fulfillment operator.
The Oak Creek location is a pick-to-voice facility; Norkus explains that some other Staples' fulfillment centers use a conveyorized system for picking. At Oak Creek, when operators are ready to begin filling an order, they erect up to 48 of the labeled cases and place them on a wheeled rack with shelves. Using a bar-code reader, they scan the license plate on each one of the cases, as well as a code on the rack itself, to establish a relationship.

They then proceed with the rack through the picking area, which is made up of approximately 40 aisles of shelving stocked with product, arranged in a "racetrack" configuration. Fulfillment operators are guided by a headset that advises them on how many products to pick for each order on the rack. The most frequently picked items are positioned on the end of each aisle. According to Norkus, roughly 20% of Oak Creek's 12,000 SKUs make up 80% of its order volume.
A look at a finished rack of orders shows cases compactly filled with product, with little headspace to spare. Since it began using the Packsize system, the Oak Creek facility has reduced its average case size by 20% and its use of air pillows by 60% to 70%, Norkus says. And, with more efficiently sized cases, the center has been able to eliminate at least one truck from its daily distribution route.
Says Rod Gallaway, Staples vice president of Logistics Strategy Design, Engineering and Projects, "The whole reason we went after Packsize was because customers wanted us to be more sustainable. Our customers have noticed the change, and we are still at the same level of productivity."
An eight-figure investment
As of December 2012, Staples had installed approximately 60 Packsize machines across the first 12 U.S. fulfillment locations. When the system is fully deployed, that number will reach up to 130 units, representing an "eight-figure" investment, according to Ralph. At presstime, Staples was using the model EM7 in all locations, but Kiessner advises that with the launch of Packsize's next-generation machine, the iQ Fusion™, Staples will have the option of specifying this model for new installations, as well as upgrading to the iQ Fusion in the first 12 facilities.
After equipping the U.S. with the On Demand Packaging system, Staples plans to roll out the solution to its Canadian centers. "As with everything else we do, we want to have a common system," says Ralph.
Where Packsize equipment has already been implemented in the Staples network, the results have been positive, with significant impacts in customer convenience, sustainability, and operational efficiency. Given the average reduction in case size and the decrease in the use of air pillows, Packsize estimates an annual carbon footprint reduction for Staples of 320,000 tons, equivalent to approximately 120,000 trees.
Says Ralph, "Regarding the reductions in tonnage and carton size, we are absolutely hitting those numbers in the first wave of rollouts. The Packsize system has been a perfect answer to what we are trying to do."
Companies in this article
Videos from Nordson Corporation