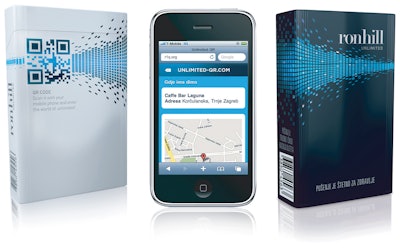 Over the past year, the buzz of excitement over on-pack mobile marketing through the use of QR codes seems to have died down to a low hum. Perhaps it was the slew of first-generation marketing campaigns that used the technology without delivering a satisfying payoff to consumers that tempered enthusiasm for the medium. But mobile marketing is not going away. In fact, 2012 was a year of evolution for the technology, as marketers learned how to more effectively leverage this 21st century tool.

"A lot of consumers were soured on QR codes with the first generation when promises went unfulfilled," says David Luttenberger, CPP, vice president and packaging strategist for Iconoculture. "They expected one thing, and either they were baited and switched, or they got something totally different. Or, they got the 'Oops, Sorry! This campaign is over' or other Internet error message."

To address these former failures, in 2012 brand owners began more vigorously vetting their mobile marketing platform providers to find the best technology solutions. And, the content they provided started moving from the realm of purely fun to functional, providing consumers with information more contextually relevant to their specific needs and desires.

"The biggest change over the past year is that the content is getting exponentially better," says Luttenberger. "Brands are learning what mobile engagement is all about."

The following list, based on Luttenberger's tip sheet, "Rules of Engagement for Mobile Marketing for Packaging," explores some of the lessons learned from first-generation mobile marketers' faux pas and advises on how to implement a successful on-pack mobile marketing campaign. [Note: The term "QR" code is used throughout as a generic term to represent all types of tags and codes that allow smartphone users to connect with digital content.]

1. Understand your objective. Is it to increase brand awareness? Drive product consumption? Generate a customer database? Improve consumer loyalty?

Says Luttenberger, "If your answer to 'Why are we doing this?' is 'Because we can,' 'Because it's cool,' or 'Because our competitors are doing it,' just stop." The danger of implementing mobile marketing without an objective, he adds, "is a lot of potential to really erode hard-earned brand equity."

If you need a reason why you should begin a mobile marketing strategy, consider this: According to a recent study from Perception Research Services (PRS) of 1,450 grocery consumers, 54% of those surveyed own a smartphone, and a majority (76%) use them while shopping. "It appears the use of QR codes may be playing a role in shopping with smartphones," concludes PRS, "especially for gathering product information, comparing prices, and seeking promotions."

Says Luttenberger, "Smartphones are becoming an everyday, 24/7 part of our lives, and we turn to these mobile devices for just about every aspect of our social life, our business life, and our personal life. Mobile marketing is a great way to connect with consumers in the moment."

In an article from Mobile Marketer ("Pepsi exec: Every campaign we have has a mobile component"), author Rimma Kats reports on a presentation given by Jason Thalappillil, marketing director of digital engagement at PepsiCo, in which he said: "For us, mobile is part of our and our consumers' lifestyle," adding that "mobile is important because it is a device that consumers always have on-hand."

Writes Kats, "Pepsi also believes that it is critical for marketers to be where their consumers are."

2. Recognize that it's not about your brand. According to Luttenberger, those brands that have been most successful with mobile marketing are those that have gotten out of their own way, instead engaging the consumer in a dialogue related to their "points of passion."

"You need to provide the consumer with 'pre-emptive gratification,'" he says. "It's not about your brand, it's about the consumer and what they are looking for and what you as a brand can provide to them in terms of contextual relevancy."
One spot-on example of a brand that understood its consumers' needs and addressed them through mobile marketing was a campaign implemented by European cigarette company TDR. On its Ronhill Unlimited cigarette packs in Croatia, the company placed a QR code that, when scanned by the consumer, directed them to a regional mobile Web site where they could locate the nearest place smoking was allowed. The site was based on geolocation and used a map that was updated daily. It also allowed the consumer to add new locations.

This campaign was clearly more useful to consumers than a Web site listing all of TDR's cigarette brands—which might have been the impulse of a first-generation mobile marketer. Notes Luttenberger, "Ronhill said, 'What can I do to help the consumer of my product enjoy my product right now?' It was a really good application."

3. Capture the mobile and millennial moments of truth (M/MMoT). "You have two to three seconds to capture a shopper's attention at the point of sale. You have about eight seconds to ensure your code/tag works before tech-savvy GenXers and tech-native Millennials say 'next,'" advises Luttenberger. The key to the M/MMoT? "Take them directly to what is relevant. Get them quickly (two or three clicks max) to the payoff. Don't make them click, tap, tab, scroll, or wait to be redirected through your entire product line or pages of nonrelevant content."

He advises marketers to think of the mobile user as a hunter, rather than a surfer. "They are hunting for specific content, directions, or something else with relevant immediacy to that moment in time."

He cites one example of an on-pack mobile marketing campaign by a confectioner that missed out on the M/MMoT by requiring consumers to access a hard-wired PC to take part in the promotion. The campaign tried to engage consumers by having them scan a tag to earn reward points. But because the campaign was not mobile-optimized, users received a message telling them they could not fully experience the promotion nor could they view their reward points on their mobile device.

Another drawback of the campaign Luttenberger relates is that the product was one that is typically shared with friends. But the brand set up the tag so that it could only be scanned once every 24 hours. "So if I am the owner of this product, and I scan it, and then I share it with five of my friends, five of my friends are going to be disappointed because they could not engage with the code," he says.

One emerging mobile technology that some experts predict will grow rapidly in the next few years due to its ability to address the issues of immediacy and ease of use is Near Field Communication. NFC is an RFID technology that allows the transfer of information just by bringing a smartphone in close proximity to the tag. In addition, NFC is supported at the operating system level of a smartphone; the consumer does not have to download a special application to engage with NFC. One of its major applications is for transactions.

In a Webinar sponsored by WS Packaging and Brand Packaging magazine, titled "Integrate Emerging Technologies with Print to Promote and Protect Your Brand," Matt Kammerait of Quad Graphics explained, "The big advantage of NFC is the 'no-click' experience. There is always a hunt to reduce steps. If it's more than three clicks, the consumer won't engage. NFC is the fulfillment of that promise."

Currently, no examples of NFC on packaging are available, but as marketers begin to understand the functionality of NFC tags and their viability for transactional purposes, Luttenberger believes "NFC is going to take mobile marketing to a whole new level of trust and empowerment."

4. Engage a neutral solutions provider. As mentioned earlier, first-generation mobile marketers learned the hard way that using a free QR-code generator downloaded from the Internet was a sure way to erode consumer confidence in their brand.

"That's a real path to danger," says Luttenberger, "because no one has control over that tag or code, and you can't gather data on who is using it."

His advice: "Don't get hung up on the type of code or technology that you use. What you should be concerned with is 1) defining the objective in terms of what you want out of the mobile experience, and then 2) finding a mobile platform provider who can recommend the type of technology and type of code or tag that can best deliver your objective.

"Also, ensure you use a code/tag platform and solutions provider that have the ability to track and report on the entire effort and campaign."
5. Strive for design disruption, not brand integration. Among the most egregious errors by first-gen mobile marketers was—and continues to be—the markerless tag or a code that is so small, or so integrated into the package design, it's virtually impossible for the typical consumer to spot. "You are not trying to reach the geek," says Luttenberger. "You are trying to reach the masses.

"From a design perspective, you still need to make the tag overt. Don't hide it. Don't design it into your logo so clouded that the consumer would never even know it's there."

In late 2011, Heinz launched a 12-week campaign using image-recognition augmented reality technology for its Tomato Ketchup brand in the U.K. By placing a smartphone or tablet camera over the bottle label, consumers using a free app for Apple and Android devices could unlock a "pop-out" recipe book, featuring recipes containing Heinz Tomato Ketchup. The problem? Nowhere on the label did it overtly indicate that the label contained an augmented reality application, nor did it indicate to the consumer what type of mobile device was required to read the label. Says Luttenberger, "They could have achieved the exact same thing, but probably for $100,000 less, with a QR code."

6. Show and tell. "Don't slap a code/tag on a package and expect scans to magically happen," Luttenberger says. "Tell folks how to engage, what the mobile device requirements are, how to download a reader, and what to do if they don't have a smartphone. Tell is good. Show is better. Show-and-tell combined is best."

In late 2011, Burt's Bees launched a completely new, natural personal care brand targeted at the millennial female consumer called güd (pronounced good). To attract and engage this new demographic, Burt's Bees included a QR code on four of the product forms—body wash, body lotion, shampoo, and conditioner. The codes, prominently positioned on the back of the bottles and tubes, are presented with instructions that read: "Scan this code with your smartphone reader or text XXXXX to XXXXXX and you'll get a güdee."

By following these directions, consumers can unlock giveaways such as coupons, mobile wallpaper, or a ring tone, to name a few. Says Burt's Bees marketing manager Garrett Putman, the codes are a "fun and interesting way to communicate with this young, modern woman."

7. Create an expectation, then fulfill the promise. Similar to the show-and-tell rule, this directive requires that you clearly define the payoff for the consumer, and provide immediate gratification. In a U.S. promotion, Heinz did it right, with the "Our Turn to Serve" campaign, supporting the Wounded Warrior Project.

The campaign encouraged consumers to visit participating restaurants and retail locations, where they could scan a (clearly labeled) QR code on the back of specially marked Heinz Ketchup bottles. The code led to a Web site where consumers could write their own "thank you" that would be printed and delivered in a care package through the USO. For each "thank you" sent, Heinz donated $1 to the Wounded Warrior project, with an additional 57 cents for each message shared on Facebook or Twitter through the campaign, up to $250,000.

"It was a really good message," says Luttenberger. "Who doesn't want to support the warriors? The thing they did wrong though was they asked consumers to like them on Facebook before they would count their engagement. Really, you can't put a condition on supporting the troops."

8. Strive for functionality. As noted, while many of the first-generation mobile marketing campaigns were based on fun—an amusing video, a cartoon, a joke of the day—the second generation is more focused on function. "We all want to be entertained, but more importantly, as the age and the sophistication of the smartphone user grows, the content that we want to see is becoming more functional," explains Luttenberger. "I want something that's going to make my life easier—easier for me to find something, easier for me to buy something. So that transition of content from fun to functional is really important across all demographics."

Research from Nielsen indicates that smartphone penetration by age is at 58% or more for users aged 18 to 44, with the highest penetration, at 66%, coming from those aged 25 to 34. Subscribers aged 45 to 54 have a 45% market penetration; aged 55 to 64, 33%; and aged 65-plus, 22%. Clearly, smartphone users come in all ages, with different expectations for fun and function, depending on the brand.

For EA Sports, a SnapTag on the cover of its NCAA Football 13 and Madden NFL 13 video games allows consumers to view videos of new features of the games before purchase. At Home Depot, an interactive tag on its plants enable users to access information specific to that species, including pictures of the plant at various stages of bloom, and care instructions. IMAN Cosmetics, a maker of cosmetics for women with skin of color, uses the "Find Your Shade" scannable QR code on cartons of foundation and powder to help consumers select personalized shades and complementary products.

Luttenberger believes this trend toward functionality will guide the future of QR code technology and mobile marketing. "I think mobile is really going to play a huge role in purchasing decisions in the future, because consumers are going to be able to research more before making a purchase and will be able to do more competitive shopping while they are in the store.

"I think brands are going to begin to really understand what mobile is about and what consumers are expecting out of a mobile engagement. They are going to really begin to tailor their messages and to think a lot harder about the extent to which mobile engagement needs to be done. But it's not going away."
Companies in this article