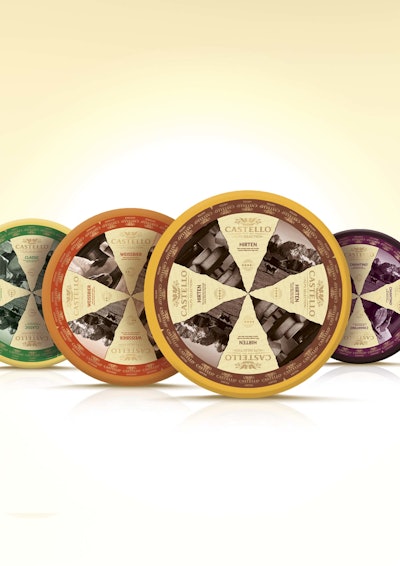 Arla Foods, Denmark, is a global dairy company and co-operative owned by dairy farmers with production facilities in 13 countries. With Arla's acquisition of a range of cheeses from a unique group of German artisan dairies in the Allgäu mountains, Bulletproof created a brand identity, packaging design, and a visual identity system that conveyed the tradition of the Bavarian mountains.
The challenge was to integrate the traditional handcrafted cheeses into the Castello contemporary brand portfolio. The concept of the "Alpine artisanal story" had to be easy for shoppers to decode, informing them on the taste profile, production, and values behind each cheese—allowing the range to be accessible and open for everyone.
Pernille Melbye, Arla's global senior brand manager says, "With our latest priority launch of Castello Alps Selection cheeses we wanted to communicate Castello values, craftsmanship, tradition, and passion—yet with a contemporary twist. Bulletproof turned out to be the perfect partner for this complex task. They developed a broad range of creative packaging that tested extremely well in consumer research. Bulletproof has shown to be excellent in all phases from strategy to creative to account management."
Nina Fortune, design director at Bulletproof adds, "Where some brands struggle for provenance and heritage, Castello Alps Selection was overflowing with engaging stories and time-honored traditions. We wanted the packaging to capture this by taking the traditional cheese wheel format and break it into wedges, each section revealing the passion and craftsmanship that is passed down from generation to generation."
The Castello Alps Selection range was launched in October in the U.S. and Canada, with a global rollout to follow over the next year.
Companies in this article