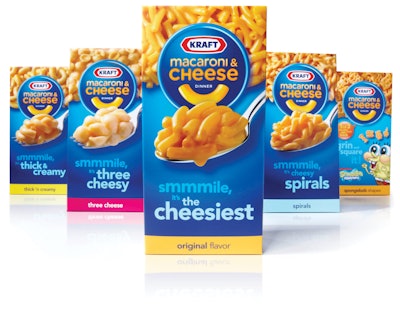 This year, Perception Research Services (PRS) is celebrating its 40th year of helping clients, through packaging and consumer research studies, win at retail with effective packaging. And without question, over that time, our belief in the power of packaging has only grown, as we've seen many success stories where innovative packaging has built brands and driven sales.

However, our experience also suggests that many marketers are not fully or consistently leveraging packaging as a marketing vehicle. In fact, across more than 10,000 studies, we've found that only 50% of new packaging systems provide a significant improvement in overall performance, relative to current packaging. While an optimist may say, "The glass is half-full," there's clearly room to improve this success rate.

With this thought in mind, we recently reviewed our database of past projects, to identify key drivers of success—and failure. Specifically, our objective was to understand why some initiatives failed to meet expectations and to identify systematic patterns that were limiting success. This article shares key themes from this analysis, along with several recommendations for improving the return-on-investment (ROI) of packaging.

Five common missteps

Certainly, there's no single explanation as to why some initiatives succeed and others don't meet expectations. However, across brands, categories, and countries, we have discerned five common patterns or actions that are highly correlated with failure, including:

1. Investing in unnecessary redesigns: Most large CPG companies have consistent research systems in place for assessing or "validating" new packaging systems prior to launch. However, very few use consumer-driven processes for determining when to redesign their packaging, or when to invest in added-value packaging systems or features. Instead, most packaging changes are driven by the judgment of a new brand manager, often in reaction to competitive changes, declining market share, and/or a desire to "create some news." As a result, considerable resources are spent on innovation or redesign efforts that aren't necessary or appropriate. What we've often found is that marketers and designers often tire of their brand's packaging well before shoppers do.
2. Solving the wrong problem: A related issue is that many efforts are rooted in misguided assumptions about the brand and its packaging (e.g., "the packaging looks old"; "it needs to be easier to hold"; etc.). Thus, a great deal of time and energy is channeled in one direction, only to eventually uncover a very different issue by way of on-shelf and/or in-home testing. For example, "improving shelf visibility" is a standard objective on nearly all design briefs. And while visibility is absolutely critical for smaller brands and new product introductions, shoppability and sub-brand differentiation are often more pressing issues for large master brands, such as Colgate, Dove, and Tide.
3. "Walking away" from core design equities: In today's world of overwhelming clutter and choice, purchase decisions are driven primarily by what people see (and miss) and by how they feel. Thus, visual equities—including unique, ownable shapes, colors, and icons—are more important than ever to help shoppers navigate expanding aisles and identify familiar brands. And not surprisingly, the majority of "disasters," in which packaging changes have led to sales declines, are cases in which new packaging lacked the familiar visual equities and created confusion or hesitation at the shelf, leading consumers to ask questions such as, "Is it still my brand?" "Where's my variety?" or "Have they changed the product inside?".

Of course, brands can't stay stagnant, but the key to successful restages is properly balancing disruption and continuity: If there's a dramatic change to one core visual equity such as a new package shape or a primary visual, it's typically best to retain other core elements, such as package color and/or brand identity. For example, when Kraft Mac & Cheese recently modified its primary graphics to inject more personality and to distance the brand from private-label competitors, they wisely maintained the Kraft branding, the primary blue-and-gold color scheme, and the spoon visual, all of which provided reassurance to shoppers. In addition, marketers should ensure that front-of-pack messaging helps explain or "frame" dramatic changes in packaging appearance (e.g., "New Look," or "Improved Formula").
4. Not moving the needle: It's perhaps inevitable that a few high-profile disasters grab headlines and imply that all packaging changes are inherently risky. However, we've actually encountered fewer cases of companies going too far with new packaging, and many more cases of new packaging systems that didn't move the needle in terms of perceptions or shopping behavior. Often, it is due to one or more of the following reasons:
• 
The packaging change isn't noticeable on shelf (from three feet away)
• 
The new look is not linked to a clear message (i.e., a reason to believe or reconsider)
• 
A new feature or functional benefit, such as resealability, is not highlighted on the package
This misstep speaks to the importance of linking packaging innovation and graphic design to strong on-pack messaging: A change in appearance may lead a shopper to take a second look at a brand, but a clear and compelling on-pack message is usually needed to win over a new user.
5. Ignoring the retail and home context: We've found that marketers sometimes lose sight of the fact that packaging needs to work in both the store and in the home.

In the store, packaging is subject to the retail realities of shelving, lighting, and merchandising, and often appears in the context of point-of-sale materials (displays, shelf talkers, etc.) and/or shelf-ready packaging. All of these factors directly affect how shoppers encounter the brand (which panels they see, etc.) and can compromise packaging communication. While it's certainly not possible to design for every retail scenario, these issues can be mitigated by designing for the worst-case scenario and ensuring that packaging and POS are designed to work together.

In the home, we know that storage location and thus in-home visibility can have a significant impact on consumption. Thus, it's important to ensure that packages "fit" within kitchens or bathrooms and/or look good enough to be displayed, or they risk being lost in the garage or closet. As importantly, we've consistently found that many of the most successful packaging innovations are those that link directly to new usage occasions, such as on-the-go packs, and/or to perceived value, for example, resealability to prevent spoilage and waste.
Driving success, increasing packaging ROI

While we've focused largely on what not to do, the encouraging news is that companies can systematically increase their likelihood of success with package design. In fact, across our largest clients, we've found major variations in success rates, tied largely to differences in packaging development and research processes. Most notably, the most effective companies invest consistently in upfront learning and structural innovation.

Upfront learning: Across nearly all organizations, research is weighted heavily toward back-end validation to inform final decisions. And while this testing is certainly valuable and necessary, the learning that it provides comes at the very end of the process, when investments have already been made—and often when teams are up against deadlines and/or are committed to making changes. To improve the process, companies need more information and insights at the outset of design initiatives, to identify opportunities, allocate resources appropriately, and provide direction. Specifically, they need to understand the strengths, limitations, and equities of their current packaging.

For many clients, we've established baseline research as a best practice at the start of design initiatives. By evaluating current packaging relative to competition—on-shelf, in-hand, and in-use—and by identifying design equities via drawing and recognition exercises, we are able to inform design briefs and set clear objectives and action standards. Ultimately, this helps ensure that each redesign effort is solving the real problem and addressing an actual shopper need or competitive disadvantage.

A second best practice is to integrate the shopping context and store environment into the design brief, by documenting the shopper's path-to-purchase, the retail realties of key channels, and the role of packaging vis-à-vis POS materials in the shopping experience.

Increasingly, this process includes understanding the digital world, including the interaction between online and brick-and-mortar shopping, and the role of smartphones and QR codes in the aisle. Collectively, this shopper insight helps define the core mission of the packaging and determines how to properly adapt packaging to different retail contexts, such as club and convenience stores. Of course, parallel efforts should also happen in the home, to document the packaging life cycle—from purchase through transport, usage, and disposal—and to understand how packaging fits within consumers' lives. This in-home ethnography nearly always yields rich learning related to value drivers, barriers to usage occasions, and sources of frustration, which are critical in guiding innovation efforts.

Structural innovation: Our 40 years of experience have consistently reinforced the value of structural innovation. Simply put, we've found that new packaging structures are more likely to drive success than graphics-only changes. That's because new shapes, materials, and delivery systems can have a significant positive impact on shelf, in hand, and in the home, and across nearly all key dimensions of packaging performance (shelf visibility, shoppability, imagery and emotional connection, value, and usage). In addition, structural packaging innovation will almost surely play a major role in addressing the core issues and transformative challenges shaping our world, including globalization, public health, and sustainability.

Thus, as we look ahead, we'd encourage organizations to push the envelope and invest in packaging innovation that is:
• 
Informed by knowledge of the shopper and store
• 
Rooted in an understanding of the brand's packaging objectives and equities
• 
Focused on key sources of value
• 
Reinforced via effective on-pack messaging
Companies that apply this discipline to their efforts—and avoid several common missteps—will be rewarded with higher levels of success and a stronger return from their packaging investments.

Scott Young is the president of Perception Research Services Intl., a company that conducts packaging and shopper research studies. He can be reached at syoung@prsresearch.com or at 201/720-2701.
Companies in this article