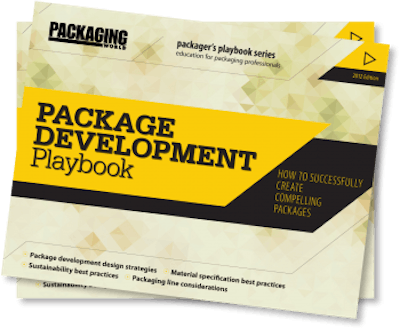 1. A shift in deployment. Instead of being put into hoppers, there is a move by some packagers to feed additives directly into the throat of the machine, allowing for quicker
color changes during production – there's no need to wait for the whole hopper to bleed out. Gravimetric weigh scale measures have provided the ability to dose accurately, even in very low doses. This has been an important breakthrough, because it also eliminates labor, as the need to hand blend is rapidly diminishing. There had been for years a general industry belief that liquid color allowed for faster changes, because it was dosed at the throat. But this attitude has been changing as pellets have made inroads.
2. Pearls for more than girls. CPGs are looking for extra pop in their packaging. One result has been a significant rise in the use of interference pearls. Consider the Hershey's mint Icebreaker tins; originally they were metal and quite beautiful. For cost purposes, they were switched from metal to plastic, but lost their luster, looking less like jewel boxes and more like something more like a hockey puck. Interference pearls, which partially change hues, fixed the problem by imparting greater shelf impact. Since they've been added, the packaging shines. And the cost of attaining a pearlescent appearance can be reduced, because the pearls can be used with traditional resins.
3. Pellets on the rise. Newer pellet technologies are emerging that are competing favorably with liquid color. Also, sentiment regarding the cost-efficiency of liquid color is starting to erode. With CPGs, there had been a push to switch to liquid color that was largely based on cost, but the reality is that all too often, injection molders aren't producing cost savings when liquids are used. The primary reason cited is that 100 percent of the liquid color isn't used; from 5-10 percent gets stuck in the barrel, and is also messy to handle, especially in the event of a spill. Further, the shelf life of liquid color is limited.
Sustainability is also an issue that weighs in the favor of pellets. While liquid color isn't hazardous, the containers along with residual color left in them, translate into more landfill waste. In contrast, notes one advocate of pellets, 100 percent of pellets are consumed.
4. Severe cost pressures. Commodity costs have been moderate over the last quarter century, but over the last two years, commodity prices have risen dramatically. For example, costs of the standard, white Ti02, base pigment used in essentially all colors, have increased up to 85 percent over the last year, and it's difficult to get even at high prices. The pigment is also used in house paint; when housing sales slowed, so did paint sales. Keep in mind that this is just one example of many factors affecting the cost of a single pigment!
Even as the industry seeks to develop low-cost fillers to displace resins, and producers look into nanotechnology as a possible solution, progress will take years, while a confluence of factors relating to geo-political petroleum supply-and-demand issues point to continuing price increases.