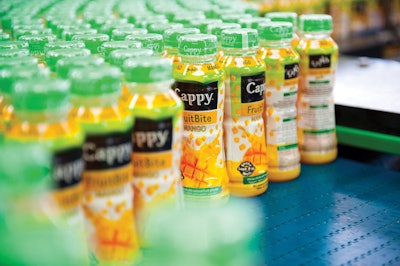 Whole fruit chunks in shelf-stable fruit juice that is hot-filled into PET bottles—that's what Coca-Cola Bottling Egypt (CCBE) launched last year out of its plant in Cairo. The breakthrough installation of Krones FlexiFruit twin-flow hot-filling technology produces a new beverage called Cappy FruitBite. The entire line, from processing to packaging, is a turnkey Krones project.

"If you like fruit, you're going to love Cappy," say the the ads being broadcast on Egyptian TV. The Coca-Cola brand Cappy is, of course, familiar. But with Cappy FruitBite, CCBE—owned by the Coca-Cola bottler BIG (Bottling Investment Group)—has broken new ground. The 300-mL wide-neck PET bottle contains 4.3 percent whole fruit chunks measuring up to 6 cu mm. These chunks, say CCBE and Krones, should not be confused with pulp, which is nothing more than grated fruit particles measuring far less than one cubic mm.

The four flavours so far of orange, mango, peach, and cocktail (a mango/peach/guava/orange combo) open up an entirely new and currently unique dimension both for the consumer's sensory "mouth-feel" and for the marketing strategy. The newly conceived fruit juice dovetails neatly with the corporate and product policies of The Coca-Cola Company. Since the year 2000, the world's biggest beverage producer has purposefully advanced its operational capabilities so that it's no longer a soft-drinks producer pure and simple. Instead, it's now a broadly diversified producer and marketer of alcohol-free beverages, not least in the category of still and healthful beverages.

CCBE president & chief operating officer Salam El-Hammamy quantifies the annual market for still fruit juices and fruit-based beverages in Egypt at around 80 million Unit Cases (approximately 450 million L). He sees 10 to 15 percent growth annually in this segment in Egypt, which is why the new Krones line was installed in the Cairo plant in the first place. The second major reason behind BIG's choice of Egypt as a location for the FlexiFruit installation was its total confidence in the ability of CCBE's technical management to master the challenges involved in running the innovative high-tech line.

Balancing act

Keeping the fruit chunks chunky is essential in a product called FruitBite. And yet, because this is a hot-filled product that is intended to be distributed unrefrigerated, the chunks still must be thermally processed pretty vigorously to eliminate the bacteria that would otherwise prevent shelf stability at ambient temperatures. The Krones FlexiFruit technology delivers this challenging combination of good mouthfeel and sufficient bacteria kill by keeping a certain amount of separation between the chunks and the juice during the thermal processing stages that precede bottling.

The chunks are delivered by fruit producers from Greece and Turkey as 10-kg IQF (individually quick-frozen) blocks. They're mixed with some of the juice in order to create what is called a "slurry." A slow stirring process significantly reduces the shear forces operating here, so there's no crushing, softening, or breaking into pieces. The agitators in the tanks have been specially designed for this purpose.

The slurry is then pasteurized in a Krones VarioFlash H shell-and-tube heat exchanger featuring interior cross-corrugated tubes, which increase the turbulent flow for an improved heat transfer in the medium-to-high-viscosity products. Following a heat-holding time of 21 to 30 sec, ultra-gentle frequency-controlled twin-screw pumps deliver the slurry directly to what's called a "pre-dosing filler" in the bottling hall.

As the chunks are being processed, juice treatment in the syrup kitchen is also underway. A continuously operating sugar-dissolving station accepts sugar from 1,000-kg bags and dissolves it at temperatures of 40 degrees C at a rate of up to 15,000 L/hr. This creates sugar syrup, which is then cooled down. At the same time, pectin and other constituents such as citric acid are quickly dissolved into the sugar syrup using what Krones calles "a special technology."

Now it's time to combine the sugar syrup and the juice concentrate. The juice concentrate is contained in aseptic packaging of some kind, though specific information on package format and size is not available. Two twin-screw pumps mix the sugar syrup with the juice concentrate and pretreated product water in two 40,000-L tanks to create the finished juice. For highly viscous products like mango or guava, a homogenizer is also used. The juice is also examined in the laboratory, where it has to be approved by Quality Control before it undergoes its own thermal processing—separate from the fruit chunks in their slurry—in a dedicated VarioFlash H heat exchanger. The juice is also passed through a product deaerator to remove oxygen content. This deaerator is fitted with an aroma recovery feature for preserving the full taste intensity of the juice, says Krones.

On to the bottling hall

The thermally processed juice is now pumped to the bottling hall, where at last it will join the fruit chunks in PET bottles blown on a Contiform H16 stretch blow molding machine. This Contiform is married in a monoblock arrangement with three other key pieces of equipment: a FlexiFruit filler with a pre-dosing starwheel for the chunk-filled slurry, a main filler carousel for the juice, and a capper. The monobloc has been dimensioned for handling 25,000 300-mL bottles/hr. In the future, plans call for 18,000 1-L bottles/hr. The pre-dosing machine, with its 33 valves, fills each 300-mL PET container with 30 mL of slurry, produced from fruit chunks and juice in a ratio of 40% slurry to 60% juice. The predosing machine is able to handle large fruit chunks measuring up to 10 mm squared. Also worth noting is that a weigh cell measures the quantity of slurry dosed into each bottle. This value is sent as feedback to the pre-dosing filler, ensuring that the filling accuracy of each individual pre-dosing valve is continuously optmized.

Exiting the pre-dosing filler, bottles move by way of starwheel exchange to the main filler, which has 55 valves. Each of the 55 valves has a weigh cell to assure an accurate final fill of 300 mL with a deviation of plus-or-minus 0.5%.
The final stop in the monoblock is a 22-station rotary capper. Each container gets a 38-mL screw-top closure with an oxygen scavenger inside. CCBE chooses not to identify the closure suppliers.

The filled and capped containers pass through a Krones Linacool cooling tunnel, where in six stages they are gently cooled down within 40 minutes to an ambient temperature of 27 to 30°C. Filling takes place at 80°C. Vacuum panels in the bottle sidewalls prevent bottles from deforming when internal pressure builds as cooling occurs.

Dry-lubricated conveyors with a built-in buffering section holding 6,000 bottles then take the containers first to a blower-type drier and then to the Krones Sleevematic labeler, which can dress the bottles in full sleeves or in part-sleeves plus neck-sleeves. End-of-line packaging in one of four formats—3 x 2-, 3 x 4-, 6 x 4-, or 6 x 5—is handled by a Krones Variopac Pro TFS. It's able to produce film-wrapped bundles, bundles with pad, or bundles on trays. Finally, the packs are loaded onto plastic pallets by a Krones Modulpal 2A palletizer.

"The entire line, including the process section, was installed in a record time of just six weeks and validated straight away within 15 days," explains technical director Magdy Ismail. "Production started on 12 July 2011, and by 1 August we were on the market. The yield from the raw materials used is very good, the damage rate to the sensitive fruit chunks is minimal—less than ten percent—and the bottling line's performance is highly satisfactory, at over 80 percent."

Single vendor helps

Salam El-Hammamy sums up the firm's experience with the new technology this way: "Working with just a single vendor for the process section and the bottling line is definitely better, and it avoids any interfacing problems. Krones' system has proven to be highly flexible for managing different recipes and individual components. The compactly dimensioned line layout makes optimum use of the space available, minimizes the piping routes and operator legwork required, and increases the product yield. The concept also places a lot of emphasis on good manufacturing practice and hygienic design for eliminating microbiological problems."

CCBE always plays it safe when it comes to sensitive products: "Quality is the most important criterion for fruit juice," says Salam El-Hammamy. So the bottled products remain in the bay-type warehouse for five days and are not released until they have passed the microbiological examination in the lab.

Cappy FruitBite is positioned as a premium product offered mainly in super- and hypermarkets at a premium price, about three Egyptian pounds (approximately 25 eurocents or 40 cents U.S.) per 300-mL bottle. A neutral consumer survey confirms Cappy FruitBite's leading position on Egypt's juice market in terms of taste, quality, and packaging.

For the not-too-distant future, CCBE is not only examining additional flavours with fruit chunks but also producing Cappy just with pulp. Larger containers holding up to 1 L are being explored. And also being looked into are lighter containers than the 25-g preform currently in use.

Since August 2011, the line has been up and running in a two-shift operation, with six operators each for the process section and the bottling line. New staff was hired specifically for this line, some of them straight from university, who were already involved in the entire installation phase and who received additional training from Krones.

To maintain optimal performance, CCBE has signed a service agreement with Krones, one that is so far unique in the Middle East region. It has been in force since January 1, 2011, with a term of three years, and it covers all 20 Krones lines at CCBE. The goal here is to manifest a long-term service support relationship between Krones and CCBE, designed to keep the lines in tip-top condition and maximize their availability while minimizing downtimes and at the same time reducing costs by avoiding unnecessary waiting times for spare parts in the event of unforeseen standstills and problems requiring swift solutions. The third goal is to further improve the capabilities of the operating staff by involving them in overhauls and repair jobs, enabling them to acquire their own personal expertise.

In order to achieve these goals, CCBE has permanently at its disposal three Egyptian Krones specialists, three German Krones staff, and one team leader. Together they work 1,400 man days/year for CCBE, carry out overhauls early each year, and inspect the lines once again before the peak season begins. They're always on call for fast on-the-spot trouble-shooting in Egypt. "This service agreement assures us of maximized flexibility, so as to provide us with the best possible options at all times," says President & Chief Operating Officer Salam El-Hammamy.
Companies in this article