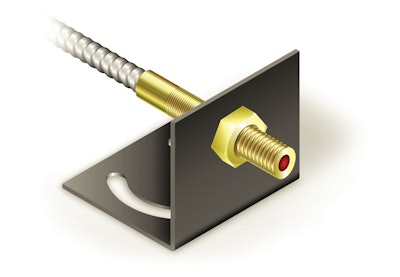 Introduced in the Summer of 2011, the SD-900 from Glue Dots provides automatic in-line application of Glue Dots brand double-sided, pressure-sensitive adhesive dots that bond instantly to virtually any surface. The SD-900 is commonly used by Consumer Packaged Goods companies to attach something "extra" to a package, perhaps a coupon, for example, or a sample toothbrush to a toothpaste tube carton. (See video at www.bit.ly/pwe00403.)

For purposes of illustration, picture a folding carton blank being conveyed beneath the SD-900. The Glue Dots adhesives are dispensed from a white release liner. On the release liner are black registration marks that help synchronize the position of the Glue Dot with that of the carton on which the dot is to be placed. The registration marks are detected by a TriTronics (www.ttco.com) SmartEye Mark II photoelectric sensor, which in turn sends a signal to an intelligent, fully programmable step motor controller. This controller also receives an input from an encoder on the conveyor that carries the folding carton, so the controller knows the speed of the conveyor. Knowing the position of the eye mark on the release liner and the speed at which the folding carton is being conveyed, the step motor controller accurately synchronizes the speed of the roller applicator that applies each dot to the speed of the conveyor. As a result, each Glue Dot is always applied in register on just the spot where it's supposed to be.

Much of this application sequence is initiated by the SmartEye photoelectric sensor. Ease of use, accuracy, and a rapid response time of 50 microseconds were all features of the sensor that appealed to Glue Dots's Reid Moertl, design engineer. But another key characteristic that won him over was in the fiber optics realm.

"I wanted to mount the sensor as close to the application point as possible because there's a lot of movement and flexing and up-and-down motion involved," says Moertl, "With all that vibration and mechanical force in place, I liked that I could plug in a very robust fiber optic cable that handles the abuse."