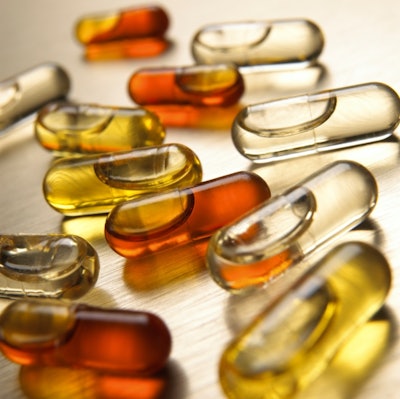 After initially launching its GRANU FINK® product for the urological market in Germany in a soft gelatin capsule form, GSK's Consumer Healthcare Division decided to investigate other dosage form options to try and improve the product's quality and reduce its production-to-market lead time.
The company selected Licaps® liquid-filled hard capsules from Capsugel, a provider of dosage form solutions to the healthcare industry.
GRANU FINK's active ingredients, pumpkin seeds extracts and pumpkin oil, were challenging to encapsulate because of the large particle size and required a long maturing period when encapsulated in traditional softgel capsules. After testing a switch to Capsugel's Licaps technology, GSK found the product to be leak-free and have now reduced their product lead times by 12 weeks.
Dr. Stephan Wurtz, head of production at GSK in Herrenberg, explains, "After comparing two different automated capsule sealing techniques, the Licaps capsules had intact seals during the complete period of stability testing and we could not detect any leakage. Capsule integrity is a key parameter used to predict product shelf life and especially helps with preventing too many product returns and this is why we ultimately chose the Licaps liquid-filled hard capsules as our dosage form."
Since Licaps capsules entered the market nearly 10 years ago, Capsugel has made multiple technological advances, including an enhanced mechanical seal with a seal zone six times greater than a banded capsule. And while they are able to effectively mask taste and odor, Licaps capsules also offer branding options that may improve loyalty when compared with other dosage forms.
GSK also conducted a consumer survey to test the visual and handling acceptance of the Licaps dosage form among regular users of GRANU FINK femina and 73% of consumers were positive about the new Licaps.
Dr. Wurtz notes, "The Licaps system has integrated well with our Bosch capsule filling equipment and because of the expert technical assistance we had from Capsugel's installation and formulation teams, we put in place a number of new validated production processes with five fully trained operators in a very short time. During one shift using the Licaps system, up to 350,000 Licaps capsules can be filled. We now have full in-house control of the manufacture of our drug and supplement lines, which gives us a number of benefits."
GSK's GRANU FINK range of products is used to strengthen the function of the bladder and help treat prostate disorders. Products include GRANU FINK femina, GRANU FINK Prosta and GRANU FINK Blase.