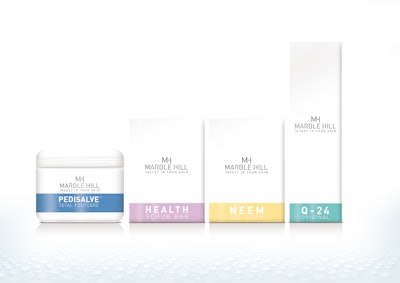 New packaging for skincare specialist Marble Hill's 100% natural skincare oils range has been designed by We Are Pure to define the luxury, simplicity, purity, and nature of the brand. David Rogers, owner and creative partner for We Are Pure, explains, "Our challenge was to ensure that Marble Hill gets the recognition in the health and beauty market that it deserves. We developed the existing logo and created striking and color-coded containers with a frosted look, while still emphasizing the clean, soft, and gentle element of the range, with a 'less is more' approach."
Marble Hill's range includes Sheasalve, a moisturizing and healing butter, and Q-24 Original, a blend of intensely conditioning oils.
Joe W Doherty, general manager for Marble Hill, was thrilled with the end result of the package design. "The combination of product and brand identity was very important to us, and the straightforward idea of color coding adds to the simple message that we want to put out there," he says.
Companies in this article