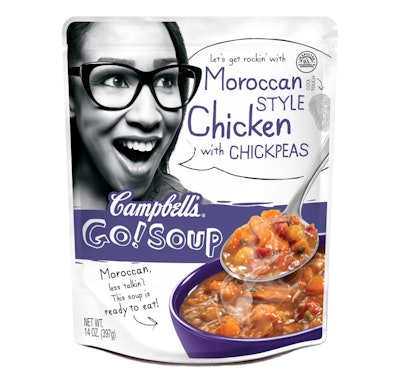 To heat up sales in a flagging category, Campbell Soup Co. will be launching a range of new products in striking, contemporary packages whose development has been fueled by consumer insights. Though by no means abandoning its iconic soup in cans, this year the company will be introducing new packages, including microwavable pouches, and new soup flavors, such as Thai Tomato Coconut and Tomato Roasted Garlic Bacon. Also among the 50-plus new products to be launched this year are Campbell's new Skillet Sauces, which can be added to a protein for a quick, convenient meal.
News of these innovations was announced during a presentation by Campbell Soup president and CEO Denise Morrison, at the annual Consumer Analyst Group of New York (CAGNY) conference earlier this week. Morrison updated attendees on the company's new direction (outlined last July), which is based on three growth strategies:
• Stabilize and then profitably grow North America soup and simple meals
• Expand the company's international presence
• Continue to drive growth in healthy beverages and baked snacks
"Powered by a relentless focus on the consumer and a radically different approach to innovation, we are extending our product platforms into new mealtime occasions and packaging formats, and responding directly to new consumer expectations," said Morrison at CAGNY. "We are focused on rebuilding relationships with our existing consumers and establishing connections to new ones. Simply put, our mission is to reinvent our products and our company for a new era."
As part of this mission, Campbell is creating new products and product platforms based on its consumer insights and aligned with what Morrison described as the New American Family—nontraditional, multigenerational, single-parent, and multicultural.
"Consumers today crave novelty, bolder flavors, and foods that help them feel alive, engaged, and connected," said Morrison. "No company is connected to consumers' lives quite like Campbell, and we are well positioned to respond to the opportunities that the changing consumer landscape will present over the next decade."
Consumer-driven innovation
Propelled by consumer insights, Campbell's revamped innovation process is designed to drive increased product development. The company has invested in breakthrough innovation teams that operate as autonomous work groups consisting of experts in consumer insights, culinary, product development, marketing, and packaging. These cross-functional innovation teams are initially focused on three specific platforms in the U.S. Simple Meals business: soup beyond the can, meals beyond soup, and new meal-maker products.
Morrison highlighted several innovations that will hit the market early in the company's next fiscal year, including:
• Campbell's Go! Soup, which will launch with five to six varieties of pouched soups in a broad range of distinctive global flavors, such as Coconut Curry and Moroccan Chicken.
• An extension of the Campbell's Go! platform with a line of simple meal solutions that are designed to appeal to younger consumer and will include contemporary packaging and graphics.
• A new line of Campbell's Skillet Sauces that will offer consumers "delicious, fast, and contemporary dinner solutions" in three easy steps.
• A new line of aseptically packaged soups called Campbell's Gourmet Bisques, which will include varieties like Thai Tomato Coconut and Tomato Roasted Garlic Bacon.
• A broadened range of soups, stews, chilis, and chowders under the Campbell's Slow Kettle brand—a line that has attracted Millennials and affluent consumers since its launch.
"These new consumer propositions are just the beginning," said Morrison. "Our revamped innovation process is designed to enable us to better understand and respond to the drivers of consumer choice, and we're highly encouraged by the initial ideas that we'll be bringing to market in the coming season."
Beverages and snacks to innovate, as well
According to Morrison, Campbell also plans to introduce new products to drive continued growth across its Healthy Beverages and Baked Snacks categories, two areas that have strong records of successful, consumer-driven innovation and growth. The company will continue to roll out V8 V-Fusion + Energy drinks and, later this year, will introduce V8 V-Fusion Sparkling beverages in slim cans and V8 V-Fusion Kids beverages in juice boxes, as well as a number of new "Pepperidge Farm" products.
Morrison concluded, "We're in the midst of a strategic turnaround, and we've made a solid start in advancing the growth strategies we announced last July. Our early efforts give you a sense of the company we're building under our new leadership team. It's a company focused outward on consumers and seeking new ways to grow our business around the world. One that's more innovative, balanced and agile. A company that draws inspiration from its past, but is focused on its future."
Companies in this article