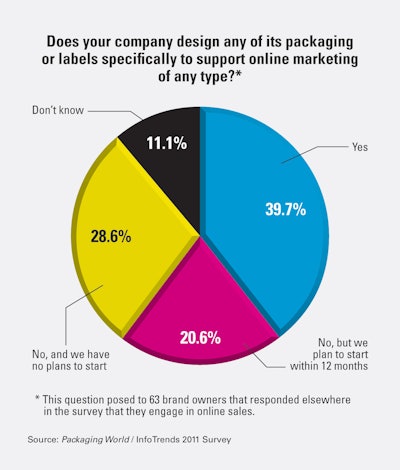 InfoTrends recently completed research about brand owners and their opinions regarding the printing of packaging and labels. Our objective is to gain understanding of what brand owners want from package and label printing, and what they will want in the years ahead. Packaging World has been our partner for a key part of our research, a structured survey of managers at companies in several vertical industries. We're grateful for the help that Packaging World has provided, and this month we offer a detailed summary of core results from that survey, as well as insights from related interviews.

Because InfoTrends' client base is mainly makers of digital printing equipment, a strong share of the questions in the survey concern color digital presses—such as systems from EFI Jetrion, HP Indigo, Xeikon, and Xerox—that are dedicated to packaging or label applications. Still, many of our survey questions concern printing in general, and so the results should also interest makers and users of flexo, offset, and other conventional presses. Some of the key findings:
• Awareness of color digital presses is now high, at 75% of our total respondents, and actual use, while much lower, is still significant.
• Prime labels are by far the top application for color digital presses, followed by two much smaller adjacent uses: folding carton and flexible packaging.
• Commitment to sustainability is now a big factor in the choice of printing methods and materials for packaging and labels.
• Interest in on-line marketing and interactivity is high, and for many brandowners packaging now has special features to support that interest.
• Versioning to meet different goals will continue to grow, adding still more short runs to meet brand owners' marketing needs.

As we'll show in the text that follows, many of these findings point to a stronger role for digital printing, not just by color digital presses but by wide format and other printers used for prototyping and very short runs.

Our survey was completed in May 2011 and drew 155 brand owner respondents. The food and beverage industry provided the most respondents (42.6%), followed by health and beauty (14.2%), pharma (10.3%), durable goods (11.0%), and software (2.6%). By region, North America dominates the response, at 83.9% of total, followed by Western Europe, 6.5%, Asia Pacific, 6.5%. A few other details about the respondents:
• Product and packaging designers or engineers are 38.1% of respondents, CEO/other top managers are 22.6%, marketing/sales managers are 13.5%, product/brand management, 10.3%
• Big and small companies responded, ranging from 36.8% companies with under $10 million in annual revenues to 23.2% with $1 billion or more.

Awareness and use of color digital
Among all 155 respondents, about 75% say that they are aware of color digital presses, either electrophotographic or inkjet, that are now an increasingly common option for printing packaging and labels. InfoTrends has determined from other research that labels, and especially prime labels, are the application that has caused this relatively high awareness and are by far the biggest application that such presses are used for. In Chart A, we isolate the 117 respondents who are aware of color digital presses and ask about use or non-use of these presses by their brands. As seen in the chart, 67.6% of them say that there is some use of color digital presses to print their packaging or labels, and that translates to 51.0% of all responding companies. Based on follow up interviews with a number of respondents, those uses in fact range widely, from very short test runs to production runs of 20,000 or more labels or other packaging units. Whatever the case may be, the most important wedge in the pie chart below is the 17.9% who say their brands use no color digital presses now but probably will in the future. Even as a share of all the survey's respondents (13.5%), that tally indicates that brand owners will likely increase their use of color digital presses.

Chart B describes the respondents who say their brands have some use of color digital presses and who also say that they themselves are familiar with the main packaging and label printing technologies. The question asks "For what applications does your company use color digital printing?", with multiple choices permitted. As seen in Chart B, prime labels is the top choice, at 71.8%, followed by flexible packaging and folding cartons at 28.2% each, and shrink sleeves at 20.5%. Color digital printing is thus a regular tool for many brands, even in applications where it is not well known, such as flexible packaging. Based on other research, though, InfoTrends believes that for color digital presses such as HP Indigo and Xeikon, over 90% of the print volume is attributable to labels, of which we would describe shrink sleeve as an important and growing sub-set. By comparison, folding carton and flexible packaging are tiny uses of color digital presses today. Although these adjacent uses are clearly growing, for now their volumes on color digital presses are comparatively limited, with narrow digital web width and specialized finishing being the biggest constraints.

Sustainability is a big factor for print
The survey asked brand owners about sustainability—how important is it when making decisions about the purchase of packaging or labels? On a scale of 1 to 5 for importance, with 5 being most important, sustainability rates 3.7 on average. The biggest companies ($1 billion or more in sales) give the highest importance, a 4.0 average. It terms of its importance to the choice of print method, our project's personal interviews indicate that the importance of sustainability is more variable. A representative of a national brand of condiments, for instance, explained that within his own operations, sustainability is a top concern, one that spurred the installation there of waste-to-energy generating capability and advanced technology for waste water treatment. Meanwhile, he notes that when choosing a print vendor, job pricing is more important than whether or not the vendor's operation is "lean" or environmentally responsible, adding "We don't get credit for the print company's being green."

According to director of marketing David Lunati at Monadnock Paper Mills, a longtime supplier of sustainable packaging materials, "green"-oriented brands often also have a strong interest in strategies to cut waste throughout the supply chain. For some brandowners, he notes, one strategy is printing with color digital presses, in particular because they support a just-in-time approach to inventory and manufacturing.

One question was directed only to brand owners who say that sustainability is important to their brands' decisions about labels and packaging. The question asks these brand owners how much they agree or disagree with each of four statements about sustainability or related topics, such as waste. As seen in Chart C, brand owners who are strong on the topic of sustainability also tend to agree that their companies favor converters with low waste processes and to require the use of recycled content, more so than is true for all brands. Converters who cut brands' risk of obsolete inventory, though, are especially favored, as seen in the chart. In that regard, color digital presses are the best option, because they print "on demand," in particular for the short runs that are most needed by brands that aim for just-in-time inventory.

Versioning is still growing
A final focus for this research excerpt is versioning. The explosion of SKUs is well known, not only in the U.S. but in most developed countries. It has occurred as brand owners have sought to target markets defined by ethnic groups, gender, age, or geography. Adding one country to a brand's marketing plan can require not only a language change to many labels, but a redesign for cultural reasons. Meanwhile, a sports championship can be an opportunity to market a brand to fans of specific professional teams, using dedicated packaging or labels.

The survey results give every indication that such versioning will continue to grow. As seen in Chart D, for different categories of versioning, the brand owners on average expect 26% to 33.1% growth over the next two years at their companies. The research project's follow-up interviews underscore especially the importance of targeted marketing and of private label. On targeted marketing, brand owners analyze their markets and potential markets more and more, and from that analysis comes the desire to exploit smaller segments. Regarding private label, this has been a strong focus of food retailers for years, because marketing their own brands allows them to make a greater margin than the margin they earn from others. Wegmans, based in New York state, is an example of a company that is a rich prospect for short runs, because it is a regional supermarket chain with a long list of food SKUs, including many that are low-volume products.

Brand owners in our survey say they also expect strong growth in versioning by different application (see Chart E). Prime label leads the way, at 39.7% expected growth over the next two years. But other uses have nearly the same outlook, from 33.3% to 35.4% growth expected. For each of these, InfoTrends can point to some useful evidence from the field. In folding cartons, the Xerox Automated Packaging System (2009), a complete folding carton printing system based on Xerox iGen 4, now has at least 15 installations globally, including one, Mediaware of Ireland, that has Microsoft as a customer for the printing of folding cartons in many languages. In flexible packaging, Foster Packaging has succeeded with the HP Indigo presses by focusing on just flexible packaging, in particular for food and beverage, and often to create "line extensions" of established products; an example would be a heritage U.K. brand that wants pouches printed to launch existing food products in Lithuania, Poland, and Czech Republic, and thus printing in the low thousands of pieces, each in different language.

Finally, there is shrink sleeve, which has benefited from the trend towards shaped bottles and which HP Indigo and other color digital presses can print handily. Interviews connected with our research picked up one other reason why shrink sleeve application will be favored, and that is sustainability. According to a packaging designer at Seventh Generation, shrink sleeves merit consideration now because, when used on plastic bottles, they can yield an easily recyclable container, with consistent resins and no adhesives.

While conventional presses also benefit from some of the trends seen in the survey, many of the priorities and preferences that the brandowners expressed indicate a growing market for color digital presses. Brand owner focus on versioning, which spurs shorter and more frequent runs, is helpful to color digital press placements. So are sustainability and lean manufacturing—conventional presses can also print recycled media and have lean operation, but they normally cannot cut waste as much as digital presses can.

Most important, color digital presses will win jobs where their print meets the brand owner's standards and cuts his costs. A top manager for packaging innovation at Bayer, the OTC drug manufacturer, said recently that he's impressed with color digital presses, but so far his company's digital printing is restricted to prototyping with wide format inkjet proofers. In a recent interview with a division of Rock Tenn, though, there's a different view. RockTenn Merchandising Display has been a successful digital printer of folding cartons for several years, using the Agfa Dotrix hybrid inkjet and flexo press. Tom Cooper, R&D Manager for Digital Printing there, said that, "...in the end it's cost and time advantages that win jobs for our digital press. Jobs where digital has such advantages—because of better short run costs or faster turnaround—that's where digital presses most often win out. Yes, versioning is important, but better costs and timing are the top motivators for color digital print."

Bob Leahey is associate director of InfoTrends, Inc., an industry research firm that specializes on digital printing. He can be reached at bob_leahey@infotrends.com.
Companies in this article