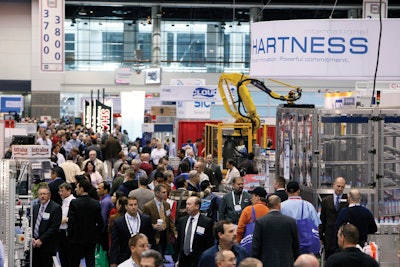 More exhibitors. More exhibit space. More solutions. Pack Expo Las Vegas 2011 is breaking records and expanding to deliver the largest and most comprehensive packaging and processing trade show experience in North America this year.


Produced by PMMI, the show will be at the Las Vegas Convention Center Sept. 26-28, 2011. More than 1,600 exhibitors will be on site, and exhibit space has grown to more than 600,000 net sq. ft.

Special exhibit pavilions, including The Brand Zone, The Processing Zone, The Pharmaceutical Pavilion, and The Reusable Packaging Pavilion, are sold out and jam-packed with exciting and innovative exhibits.

"We're excited about the way Pack Expo Las Vegas 2011 is shaping up," says PMMI President & CEO Charles D. Yuska. "The Las Vegas show has grown considerably over the past 15-plus years, and now it has more to offer than ever. This year, we're presenting a number of special features, many of them brand new."

Pack Expo Las Vegas 2011 attendees will enjoy a new standard for trade shows with these features (and more):
• The opportunity to connect with more than 1,600 world-class suppliers and 25,000 colleagues—Pack Expo Las Vegas is the largest packaging and processing trade show in North America this year
• Total systems solutions for precisely integrated production lines
• Cutting-edge technologies to apply in all vertical markets
• An enhanced conference program presented by key industry players
• Dedicated industry pavilions for confectionery, processing, reusable packaging, and pharmaceutical, and an expanded Brand Zone with materials that shape winning brands
• Market-specific lounges for networking and education on the show floor: The Candy Bar, The Baking/Snack Break, and the Rx Lounge
• The future of retailing and packaging, as envisioned by Clemson University
• The Showcase of Packaging Innovations—300 award-winning packages bound to inspire.
• The Sixth annual Pack Expo Selects Competition (Remember to cast your vote!)

Materials aplenty
Material ConneXion®, a global leader in materials solutions, has also joined Pack Expo Las Vegas 2011 and will bring its dynamic, interactive materials display to The Brand Zone.

Material ConneXion's exhibit will introduce new ideas, showcase emerging trends, and demonstrate the essential link between material innovation and design. The exhibit's primary focus will be material innovations for the packaging industry, but it will also offer ideas for cross-industry pollination by highlighting materials from all areas of design.

"Our interactive Innovation Lab will educate Pack Expo visitors on the essential material concepts driving innovation today by allowing them to see, touch and experience the materials that are having the greatest impact on the design world," said Alison Zingaro, marketing and communications manager for Material ConneXion.

Material ConneXion, with seven offices around the globe, works with designers and manufacturers to discover materials that will invigorate design, revolutionize industry, and create more sustainable environments. The company's Materials Library is the world's largest, housing more than 5,000 commercially available materials, and its online database offers subscribers comprehensive technical descriptions and complete manufacturer contact information.

"Packaging materials are in the forefront of the sustainability conversation. Keeping brands competitive and relevant with consumers remains important as well," says Yuska. "The Brand Zone allows brand owners to see the latest technologies so they can position themselves for long-term success. Having Material ConneXion exhibit their innovative materials solutions is a perfect fit for the Brand Zone at Pack Expo Las Vegas."

Innovation Stage Program
Professionals in the baking and snack, confectionery, and pharmaceutical industries will be able to easily discover packaging and processing innovations at Pack Expo Las Vegas with the debut of the Innovation Stage Program. Composed of a series of live seminars, the Innovation Stage Program will be conveniently located on the show floor inside three industry-specific lounges: The Baking and Snack Break, The Candy Bar, and The Rx Lounge.

Three 30-minute live seminars will be held in each lounge on Monday, September 26 and Tuesday, September 27. Seminars will begin at 11:00am, 1:00pm and 3:00pm each day. Admission is free and no pre-registration is required to attend.

"The Innovation Stage Program is another example of our customer-centric approach, putting attendees at the center," says Yuska. "Our goal is to make it as easy as possible for attendees to find the packaging and processing innovation they need and add value to their overall experience at Pack Expo Las Vegas."

In addition to the Innovation Stage Program, each lounge will house an "Ask the Expert" forum, where attendees can receive guidance from experts on specific packaging- and processing-related challenges. In addition, micro-sites featuring relevant trends and news are being created for the baking and snack, confection and pharmaceutical industries on www.packexpo.com, making it faster and easier for attendees to schedule appointments, coordinate purchases, and build relationships. The micro-site will feature live blogging from experts on the show floor, and will remain active after Pack Expo Las Vegas ends, so attendees can stay in touch with exhibitors year-round.

Each lounge will host a special reception on the afternoon of Monday, September 26 that offers an additional forum for attendees to network with industry peers during the show.

Conference power
Always a highlight of the Pack Expo experience is the comprehensive conference at Pack Expo, where processing and packaging professionals can gain further insight into pressing issues of the day. Following are just some of the industry groups that have contributed to shaping the conference content:
• Alliance for Innovation and Operational Excellence (AIOE)
• Institute of Packaging Professionals (IoPP)
• International Society of Beverage Technologists (ISBT)
• Reusable Packaging Association (RPA)
• Converting and Packaging Printing (CPP)

In addition, former Secretary of State and retired General Colin L. Powell will be the keynote speaker at the Pack Expo Leadership Lecture sponsored by DuPont and Morrison Container Handling Solutions. The event will take place Tuesday, September 27, and General Powell's address is titled "Diplomacy: Persuasion, Trust & Values." Tickets can be purchased at www.packexpo.com. Single tickets are available for $125 or packages of 10 tickets are available for $1,000.

Pack Expo Las Vegas offers more opportunities to processing and packaging professionals than any other trade show in North America. For complete registration details, plus a list of exhibitors, visit www.packexpo.com.
Companies in this article
Videos from Morrison Container Handling Solutions