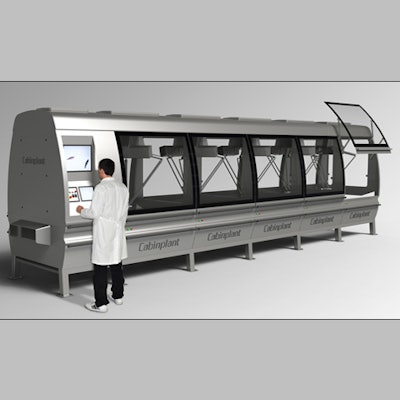 The innovative pick, process and place machine streamlines fish packing operations, replaces manual labor with an automated process, and improves operation efficiency by reducing giveaway.
"Most machines will use a robot to do pick and place only," said Ralf Astrup, managing director of Cabinplant. "We thought, why not handle the food in the meantime?"
The state of the art machine uses the robot to pick, process and place. All of the processing steps, including separation of the head and tail, removal of the viscera and size grading, are performed in the movement of the pick and place operation as the robot transfers individual products from a feeding conveyor into the package. In a single stroke, the system eliminates a number of handling steps required to link the individual processing stations in traditional methods, also freeing up time and space.
The patented machine is an integrated process with an uninterrupted automation sequence, setting new standards in space minimization and throughput rate. The new system uses the Schneider Electric P4 delta robot, which is controlled by Schneider Electric's PacDrive automation solution. The PacDrive solution takes I/O and servo drives out of electrical cabinets and onto individual machine modules.
Compared to existing solutions, the pick, process and place line can reduce giveaway by 10-12 percent — even a 2-3 percent reduction can add up to millions of dollar per year for the manufacturer — resulting in a 1-2 year payback time. Depending on the product type, size and weight, the robot can process and pack between 40-50 pieces per minute. Multiple robots can be stacked up, making the average system capable of handling 300 fish per minute.
The machine also includes a vision system that scans the fish. Highly accurate algorithms calculate a weight for the fish without actually having to weigh it, and based on this information, the system assigns the fish a grade. The robot will not pick a fish that is badly damaged and also will reject foreign species. In the shrimp market, the machine can be used to remove the heads of large shrimp — something that largely is a manual process.
"There is a great deal of interest around the globe in the pick, process and place line because many fish processing facilities are dealing with a dual problem — finding an adequate labor supply and dealing with rising labor costs," said Ralf. "This forces many companies to outsource the work, which means they lose control. The pick, process and place line allows them to take back the process, gain control, and also reduce the possibility for error since there's no manual handling."
Cabinplant was searching for a stainless steel robot that could be completely washed down, and chose Schneider Electric after several productive consultative meetings.
"The support from Schneider Electric has been excellent. Especially when it's a research and development project and you need closer collaboration. Schneider Electric has been perfect," said Ralf.
Cabinplant believes the pick, process and place line has unlimited possibilities in other industries, including meat processing, other types of fish, or even cut vegetables.
About Cabinplant
Cabinplant A/S is a world leading provider of tailor-made processing solutions for the food industry. It is Cabinplant's mission to develop, manufacture and market machines, process and packing equipment with built-in knowhow for the food industry.
Our main focus areas are within fish, shellfish, fruit, vegetables, berries and convenience foods. On top of this we provide weighing and packing solutions for a wide range of industries With industry know-how drawn from 40 years of experience, we are experts at putting the right pieces in place to help you increase reliability, reduce downtime, lower operating costs, minimize giveaway - and stay competitive!
About Schneider Electric Packaging
Schneider Electric Packaging (formerly ELAU Packaging) is the only automaton supplier in the world exclusively focused on packaging machinery. It offers the only automation system purpose-built for the packaging industry.
Schneider Electric Packaging equips over $1 billion worth of packaging machines annually, with over 45,000 systems already deployed worldwide.
The market demands packaging operations that are more flexible and efficient to fulfill marketing, supply chain and global business strategies. Schneider Electric Packaging innovations have enabled a revolution in mechanical, software and hardware modularity to deliver these agile packaging systems.
Companies in this article