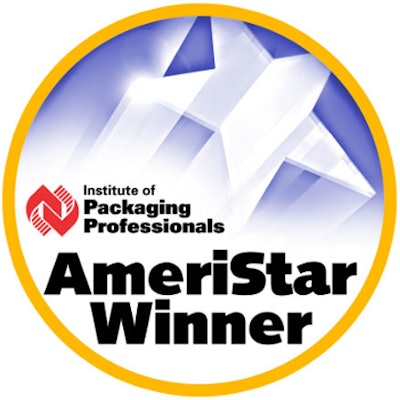 The Institute of Packaging Professionals (IoPP) has added two new awards to its AmeriStar Package Awards competition for 2012. The first addition is a new category—private label—and is targeted at retailers and their private-label brands. It will follow the same criteria that IoPP judges use to evaluate packaging in all other categories of the AmeriStar competition, including design appearance, sustainability, economic factors, and creative use of materials.
Private-label manufacturers may enter as many of the different categories as they wish and compete against the national brands. National brands, however, will not be eligible to enter the private-label category.
"A lot of companies are doing great work today in private-label packaging, and this new award enables IoPP to recognize the best of the best," says Jane Chase, IoPP immediate past chair, who spearheads the AmeriStar program. "We also believe it will inspire more store-brand companies to enter packages in the AmeriStar competition."
The second award that IoPP is introducing is a special "Best in Show" award, honoring a package that best integrates structural and graphic design in support of brand objectives. AmeriStar judges will bring forward from each category those packages that they feel best exemplify excellence in integrating structural and graphic design, to compete for this award. Design criteria that the judges will consider include benefits to consumers and retailers, enhancements in distribution, and improved functionality that entices consumers to think about a product in a new way.
"This award will be similar to our Sustainability and overall Best in Show awards," Chase notes.
Adds Jim George, IoPP's director of education, "These new awards are two great additional opportunities to compete for a prestigious honor that salutes the superb package design work that is being done among both national brands and in the private-label industry."
IoPP will put out the call for AmeriStar entries in the fall; judging will take place early in 2012.