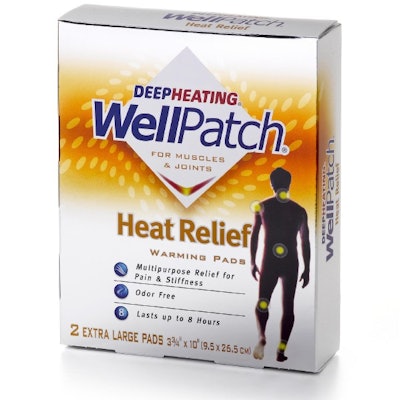 In the muscle pain-relief aisle, packaging reflects this elevated status for Mentholatum Co. Inc.'s WellPatch brand of treatment patches. Competition in the pain-relief category is increasing, and it created the need for a package redesign for WellPatch.
"We wanted to modernize and build attraction at shelf, where many purchase decisions are made," says Mike Vendura, Mentholatum's Senior Brand Manager, Health Care. "We needed a new look that would allow WellPatch to stand out, while reinforcing and speaking to the innovation and efficacy of our products."
The creative team also decided to build a clearer link between Mentholatum's topical pain-relief patches and its Deep Heating brand of pain-relieving rubs, which enjoys strong equity and awareness among consumers.
Brand and design consultancy
Dragon Rouge
's (
www.dragonrouge-usa.com
) quantitative consumer research determined that Deep Heating communicates the benefit of releasing heat deep into muscles. Those findings provided the opportunity to over-brand WellPatch with Deep Heating, says Eric Zeitoun, Dragon Rouge President.
Red and blue graphic elements, printed in four-color process with two spot colors, accent the brand's silver metallic carton. The design breaks with the category's traditional visual cues yet still presents the visual elements that communicate a pain-relief pad with a warming/cooling benefit, and positions the brand as energetic and contemporary. The color scheme gives the brand another leg up in OTC products by creating warm waves of color to call out each product's specific benefits.
Mod-Pac Corp.
(
www.modpac.com
) prints and provides the paperboard cartons.
Companies in this article