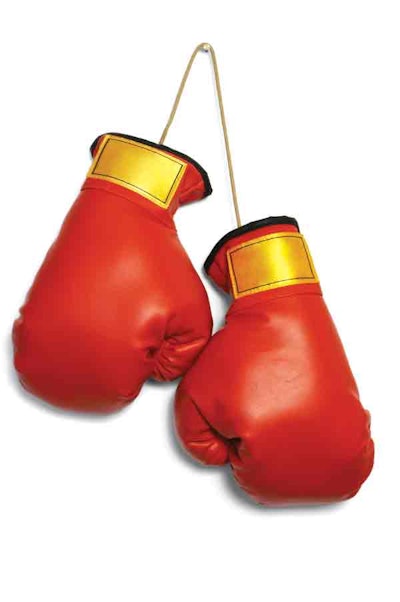 Packaging for today's demanding retailers has to meet just a few needs, says Gerry Donley, president of the Toll Packaging Group (www.tollpack.com). "It has to add value but not cost a penny more, and it has to get to market efficiently."
Additional factors are making the challenge formidable for contract packagers to meet these needs. The leading retailers are dictating individual packaging needs from size to when and where and how the products will appear in the store. Expanding regulations and rising materials and transportation costs are also adding complexity to the equation.
"What you set up maybe five years ago is not acceptable now," Donley observes. "So you have to think about efficiency in new ways."
At Toll Packaging, the focus is on flexibility for keeping pace with the marketplace's changing dynamics. Internally, the company believes that by being flexible in production and being elaborately organized to solve problems, it can achieve a 20% year-to-year sales increase as a third-party co-packer.
The company packages dry and semi-moist products for new introductions, special promotions, and seasonal demand. These products include human food and pet food. Many of the 24 production lines inside its 110,000-sq-ft plant in Gibson City, IL, are customized to create packaging forms that suit customers ranging from small start-up marketing operations to the national brands. The range of Toll Packaging's services include vertical and horizontal form/fill/seal; carton and canister filling; nitrogen flushing; vacuum packaging; display assembly; heat-shrink label application; shrink-wrapping jug, pail, and bag-in-box filling; and blending.
Integrating all these services under one roof requires nimble operations, and Toll Packaging succeeds by focusing on two broad areas:
• Customer-specific solutions. The company secures or designs equipment to fit a specific product and package. This includes retrofitting equipment.
• Efficiency enhancements. A plant steering team has been put in place to improve efficiency and enhance the quality of the products that exit the facility.
Customer-specific solutions
Many product manufacturers specify multiple packaging requirements to give their product visibility on crowded store shelves. Contract packagers like Toll Packaging, whose production lines are geared up to handle these requirements, are winning the contracts to produce packages that put a tangible face on a brand.
One company with just such a product is AgriTrade International LLC. Toll Packaging had been hand-filling its Natural Harvest brand of adult-dog and cat food into premade flexible-film bags. "We got to a point where the volume of the product going through the line increased, and we needed a form/fill/seal machine," says Phil Bray, president of AgriTrade, an exporter that provides the Natural Harvest pet food line for distribution in Japan.
AgriTrade had specific requirements for an improved package. It wanted a square, vacuum-sealed pouch with contour to give the package distinction from the smooth surfaces of conventional dog food pouches, and the appearance needed to remain consistent. Toll Packaging determined that a VPP 350/KVM-15 vertical f/f/s machine from Wolf Packaging Machines (www.wolf-pack.de) was suitable for shaping the desired vacuum pack. Toll Packaging based its decision in part on package testing conducted through Technik Packaging Machinery (www.technikpackaging.com), Wolf's U.S. dealer. "We traveled to Wolf's plant in Germany to validate the equipment to be sure it would provide the quality package necessary to meet customer specifications," says Vicky Wilson, Toll Packaging sales and marketing manager.
2,000 labor hours saved
On the day Contract Packaging visited Toll Packaging, Natural Havest's 3.5-lb bags were being filled on the line. The VPP 350/KVM-15, operating as a stationary line, fills more than 600 units/hr. The line is run with one machine operator and two packaging associates. The machine fills the 3.5-lb bag considerably faster that the previous hand-filling process.
The pouches are then vacuum packed, "brick packed," and flushed with nitrogen so the bag wall shapes snuggly around the product inside the pouches to give them their distinctive texture. The bags exit the vertical machine and move single file down a conveyor, where eight bags are case-packed into each standard RSC-style shipping case.
The former manual filling line required five packaging associates, and the filling rate was 5 pouches/min. With the automated line, Wilson calculates, Toll Packaging saves more than 2,000 hours of labor annually. Due to that savings and other economies of scale, AgriTrade has reaped a 21% price reduction for co-packing on the larger package and a 13% reduction on the smaller one. In addition, AgriTrade avoids the cost of converting the bags to the premade form.
Besides multiple package sizes, Natural Harvest is also produced in a variety of flavors. That means a lot of stopping and starting for each package size and flavor change. But Glenn Edburg, line operator on the KVM-15, has the operation humming so efficiently that only one pouch impression is wasted in changeover between packaging runs or film roll changes.
"We're going twice as fast with about half the people," AgriTrade's Bray notes. "We've easily taken at least a week off production time per order. We can fill a truckload in a day, whereas it used to take a week."
After switching from premade bags to automated roll stock, the number of Natural Harvest pouches discarded for sealing or leaking problems has diminished from as much as 5% to less than .5%, Edburg says.
Another way that Toll Packaging demonstrates flexibility is by retrofitting its canister lines to accommodate multiple unique shapes and styles. Del Monte is a case in point. The food-marketing giant produces a lot of the packaging for its products in-house, but often relies on contract packagers for unique products that would otherwise require costly alternations to its own packaging machinery.
Del Monte selected Toll Packaging to produce one of these packages, a portable container of various dog treats marketed under the To Go! Treats brand. "They said they may need anywhere from 700,000 to 8 million containers," Wilson says.
The small, oblong polypropylene container holds 2.25 oz of dog treats and comes with a flip-top closure and a belt clip attachment for easy dog owner portability. Berry Plastics (www.berryplastics.com) ships empty containers to Toll Packaging with the closures and belt clips attached. Toll Packaging fills the treats into the canisters and then conduction seals a tamper-evident foil membrane beneath the lid closure. This seal is done on a Holmatic PR-1 sealing machine. The lids are closed, and the completed containers are conveyed to the end of the line for packing into 12-count countertop display trays that meet the merchandising needs of high-volume pet product retailers like PetSmart. Products are shipped directly to Del Monte distribution centers or to retailers.
Retooling the sealing machine led to the success of such a unique package, Wilson says. "You won't find another package like it on the shelf, so to find a piece of equipment set up and ready to go would have been impossible."
What are the benefits to Del Monte? Finished packages came off the line in half the time that Del Monte required. The project came in at budget, and Toll provided a machine option that allowed capacity for future growth.
"We were able to complete this project at 25% to 30% of the cost of putting in a new line and at a rate that gives additional capacity for similar type packaging," Wilson notes.
These two custom projects reflect the company's second broad initiative to enhance flexibility—efficiency and quality improvements across the plant. Plant general manager Darryn Herrmann was instrumental in forming a Plant Steering Team (PST). Here are some principal results:
1. Plant efficiency improved to 97% in 2006 from 71% in 2004.
2. On-time delivery now exceeds 99% of all orders.
3. Product quality is 99.7% through gap analysis and process refinement from receiving through shipping.
4. Visual aids have been set in place to best deliver the customer direction to the plant floor.
Improved logistics
The enhancements are evident on the logistics side, too. The company has improved its future planning and scheduling systems by working with suppliers and customers well in advance for internal capacity considerations and trucking needs during peak volume delivery times such as the holiday season, when delivery schedules are extremely tight.
Looking back on recent efficiency and quality process improvements, Donley believes Toll Packaging has positioned itself well as a nimble co-packer that can adapt equally well to reasonably short, customized packaging runs and high-
volume production.
"Our customers are no longer asking us, they're telling us what they want," he says. "Flexibility used to be about product flavors. Now it's package flexibility. We're not locked into one package if a product line really takes off." [CP]
The author, Jim George, is the Editor-in-Chief of Contract Packaging magazine.
Companies in this article
Videos from Universal Labeling Systems, Inc.