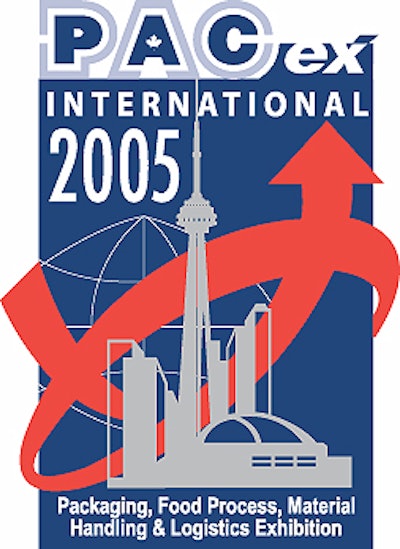 PACex International, running May 24-26, is back and bigger than ever for 2005. Not only is it newly located in the National Trade Center, Canada's largest and most advanced exhibition facility, it also features a dynamic new integrated format that showcases packaging, food processing, and materials handling technologies. Show sponsor Reseau Exposium Canada, Inc. claims the show will create much needed efficiencies and new networking and sales opportunities for participants.
The show will offer more than 250ꯠ sq' of cutting-edge packaging, food processing, and materials handling solutions from an estimated 800-plus exhibitors. Also scheduled is a dynamic morning conference series, where visitors and exhibitors can learn about the latest and hottest trends in packaging, processing, and materials handling. The Packaging Association of Canada's National Packaging Competition, and special visitor features and attractions on the show floor, are also included.
PACex International's integrated approach provides unparalleled value and synergies by converging the latest products, technologies, and solutions from three leading industry sectors.
For complete information on the show, including a list of exhibitors and on-line registration instructions, visit www.pacexinternational.com.