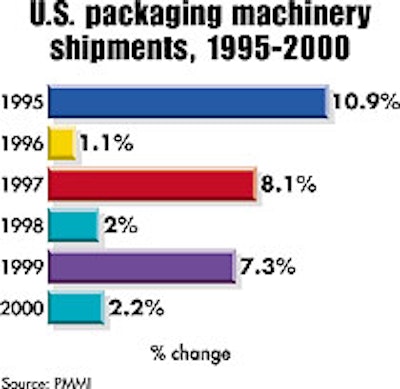 Wait till next year!" is practically the motto for the Chicago Cubs baseball team, and manufacturers seem to be taking a similar approach to buying packaging machinery. So reports the Packaging Machinery Manufacturers Institute (Arlington, VA) in its 7th Annual Packaging Machinery Shipments & Outlook Study. Packaging World reports from an executive summary it received late last year.
Year 2000 shipments of new packaging machinery only (excluding used and rebuilt equipment, services, and spare parts) were up a modest 2.2% to just under $5 billion. Domestic shipments carried the water, increasing by 3.1%, while exports fell 1.6%. Even overlooking the effects of Sept. 11, year 2001 machinery business was already suffering, not only from the economic downturns in the United States and elsewhere, but also from the strong U.S. currency that inhibits exports.
PMMI charted the "pattern" of packaging machinery shipments from '95 through 2000 (see Chart). The three even-numbered years showed increases averaging just 1.7%, while the odd-numbered years averaged shipment increases of 8.7%. The report says this pattern is attributable to our country's "long-running prosperity" and fiscal policy to mitigate the extremes of the "traditional business cycle."
Nowhere is it hinted that the alternating high- and low-growth years could be attributable to the effects of Pack Expo Intl., PMMI's every-other-year show in Chicago. If machinery builders typically postpone new machine introductions until Pack Expo, it seems likely that buyers might similarly wait until the show before investing heavily. Those machine purchases aren't likely to be shipped until the following year.
Year 2001 looks to be an exception to the pattern, as PMMI projects a 4.6% decline in packaging shipments.
The report acknowledges that first half 2000 economic strength "encouraged customers to continue expanding" packaging capacity, while "the weakening fundamentals in the second half" dampened capital spending. Those fundamentals are typified by lower profits, market uncertainty, and excess capacity.
Furthermore, the report pinpoints industry consolidation, especially in the food business, as a contributing factor. "In addition to causing project delays and cancellations," consolidation led to plant closings, reducing the number of potential customers while increasing the number of used packaging machines in the marketplace.
Acknowledging this machinery segment, the report indicates that tighter budgets caused some customers to opt for used/rebuilt equipment as lower-cost alternatives to new machinery. The analysis also says that retrofit kits for equipment also "grew sharply in 2000."
Rebounding
Although the projections for 2001 are glum, the report is very optimistic that shipments will begin to rebound next year, and especially in 2003, when shipments are estimated to significantly top $5.4 billion. In addition to this growth, which reflects a projected recovery in the overall economy, the report sees major increases in capacity utilization.
It predicts capacity utilization will "remain in the low-to-mid-70% range through the first half of 2002. As the economy begins to recover, the rate will increase gradually to at least 79% by the end of 2002 and 81% to 83% by 2003."
Once the U.S. economy recovers, according to the study, foreign economies will follow so that export sales will gradually expand, "with the best results expected for 2003."
This year, PMMI predicts that packaging machine shipments will increase by 5.4% to total $4.98 billion, slightly higher than the total for 2000. However, because capital spending typically lags behind an economic recovery, PMMI sees shipments of packaging machines growing by 8.8% in 2003.
This runs counter to most capital spending studies that predict net declines for both '01 and '02, followed by a sharp upturn the following year. PMMI points out that, historically, packaging machinery investments "have consistently grown at rates exceeding" the growth of equipment in general.
For more on machinery shipments, see: packworld.com/go/machineryshipments
See sidebar to this article: Canadian shipments slow in 2000
Companies in this article