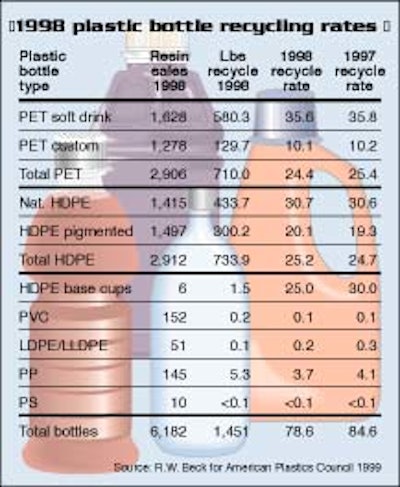 California's comprehensive recycling law, AB 939, requires local governments to divert 50% of waste from their landfills and incinerators by 2000, or face stiff fines. The prices being paid by recyclers for plastics do not cover collection costs, and California municipalities do not realistically have the option of just dropping plastics because of the 50% diversion threshold.
William O'Grady, general manager of California PE recyc-ler Talco Plastics, explained that because the market prices are not high enough for plastics, local governments and haulers are reluctant to expand their current plastics operations. Thus, plastics recycling in California is stagnant.
Recyclers of polyethylene terephthalate say even though much of their material is subsidized by deposits, they have to compete with cheap wide-spec virgin PET coming in from the Pacific Rim. Recycled-content bottlemakers have kept quiet on the SB 1110 issue, not wishing to offend customers. But when asked, PCR bottlemakers say they do have excess capacity on the recycled-container end because many manufacturers do not want to pay extra to use PCR unless they have to.