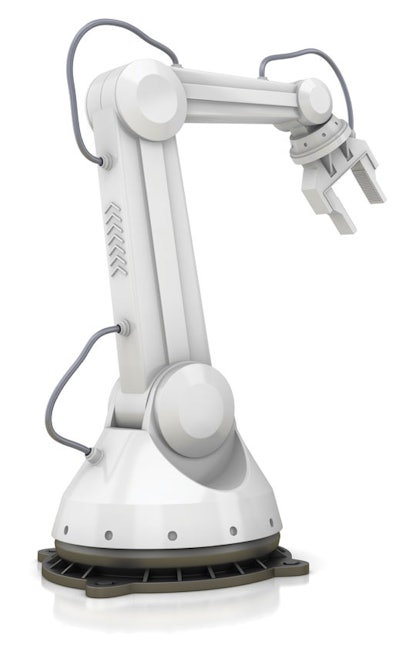 Since early 2010, the
Robotics Industry Association
(RIA) has gleefully reported a strong growth in robotics sales, after weathering a 25% slump in 2009. In April of this year, the RIA declared of first-quarter 2011 sales: "North American robotics companies enjoyed their best quarter since 2007."
Reflecting on strong 2010 sales, which totaled 13,174 robots and sales of $845.6 million, RIA president Jeff Burnstein said, "It was a great year for the robotics industry, not just in North America, but worldwide. The demand for robotics took off once the 'Great Recession' ended, as companies resumed investments in technology that improves productivity, quality, flexibility, and time to market, key benefits of robotics."
In 2010, RIA noted, non-automotive orders jumped 46%, fueled in part by food and consumer goods (+47%) and life sciences/pharmaceuticals/biomedical/medical devices (+26%). But how does this play out on the plant floor of Packaging World's readers?
Each year, PW presents a Special Report on robotics in the packaging industry that typically takes the form of case history stories of new and unique applications among consumer packaged goods companies (see packworld.com/article-30176 for 2010 report). This year, PW decided to put some facts and figures behind the stories of robotics use in the packaging industry, launching a first-ever survey of our readers on this topic.
The response was tremendous. More than 900 participants answered our survey, which asked questions about current and future robotics usage, drivers for automation, and perceived challenges for non-users of robotics, among other issues. On the following pages, we share the results of this survey.
Very strong support for robotics
According to our Robotics in Packaging survey, the CPG market is (almost) evenly split right now among users (49.5%) and non-users (50.5%) of robotics in packaging operations. But this number looks like it could change radically within the next five years, with 46.7% of those companies currently without robotics saying that they plan on making a purchase within the next five years.
Furthermore, of those companies planning on making an initial purchase of robotics for their packaging operations by 2016, 30.1% say they plan to make the investment within the next year; 28.4% within the next two years; 18% within the next three years; and 23.5% within the next three to five years. That's good news for suppliers of robotics equipment, who can plan on seeing continued sales coming from packaging operations.
Incidentally, the majority of those responding to our survey represented those industries identified by RIA as being the biggest growth areas for robotics. The largest segment of respondents identified themselves as being in the food industry, at 23.8%, with the next largest segment, at 11.4%, identifying themselves as being involved in healthcare (pharmaceutical or medical device), and 10.1% in consumer products. Other industries represented included beverage (8.2%), industrial products (6.4%), personal care products (4%), and contract packaging (2.8%), among others.
Company size varied among respondents, with the majority (33%) coming from companies with 1,000 or more employees. The next largest group of respondents came from companies with 100 to 500 employees; 25.8 percent came from companies with 100 or fewer employees. Only 8.8% of respondents identified themselves as being with companies with 500 to 1,000 employees.
Cost figures highly in lack of purchase intent
Among those respondents who said they do not intend to purchase robotics in the next five years, the main reason: "No application" (50.4%). The next biggest factor holding them back from that purchase was "cost," at 43.7%.
These respondents were then asked this open-ended question: "What would it take for you to invest in robotic equipment for your packaging operation? New robotic technologies? New applications? Other?" Among the more than 50 responses, a large number of respondents pinpointed cost as the drawback to purchase. Comments included, "System that fits our application without excessive expenses," "Drastic price reduction," "Benefits with respect to cost savings, efficiency, and quality," and "Return on investment."
After cost, many respondents noted that in order to justify a purchase of robotics, their packaging output volume would need to increase—"substantially" in some cases.
Other comments dealt with the need for new technologies to meet specific packaging needs. For example, packing shoes into one-piece boxes or loading cheese into a thermoformed tray.
Robotics users come back for more
In line with RIA's observations, many of the respondents to PW's survey who currently use robotics have purchased them fairly recently. Nearly 50% of respondents indicated that they purchased their equipment within the last year, and 30.7% within the last two to three years. The balance reported having made their purchases from three to five years ago. These users are obviously sold on the value of robotics, too: 81.6% report that they plan to purchase additional robots within the next five years.
When asked about the quantity of robots within their operations, respondents gave a mixed bag of results. The majority (32.7%) said they have seven or more robots. The next largest group (19.6%), however, said they have just one, and 15.9% said they have two.
As for the type of robot technology being used, respondents were given five choices and asked to select all that apply. Forty-nine percent said they are using an articulated robot; 26.9% a gantry/Cartesian/linear robot; 20.4% a delta/parallel robot; and 13.5% a SCARA robot. Thirty-one percent of respondents noted that they did not know the type of robot technology being used.
Secondary packaging still leads as the main application for robotics in packaging operations, but not by much. Among the CPGs using robots, 39.2% said they are using them in secondary packaging, 31% in primary packaging applications, and 29.8% in both.
Palletizing and depalletizing leads as the top application, at 51%; followed closely by pick-and-place, at 48.2%; case packing, at 40.8%; material handling, at 32.2%; and assembly of mixed load pallets, at 16.3. (Respondents were asked to check all that apply.) Other applications listed by respondents included bagging, closure application, retort loading, spoon insertion, and formulation, among others.
Purchase drivers
There are many advantages of robotics equipment, and in our survey, we listed many of them: adaptability, cost savings, efficiency, ergonomics, labor savings, manufacturing flexibility, product quality, reliability, sanitation, speed/productivity, and time to market. Then we asked those respondents who don't currently use robotics but plan to make a purchase within the next five years, as well as the current owners of robotics, to name the top three drivers influencing their robotics purchases.
Results showed that both groups are primarily driven by four factors, although in different order. Future purchasers said they are looking for efficiency (53.6%), cost savings (51.6%), labor savings (42.8%), and speed/productivity (37.3%). Current users said they were motivated by labor savings (52.5%), efficiency (48.8%), speed/productivity (42.6%), and cost savings (40.9%)
Neither group rated sanitation or time to market as very big influencers, and for those who already have installed robotics, product quality was also cited as not being a strong driver for purchase.
Robotics 'wish list'
Among current users of robotics, while they have found automation equipment to meet many of their packaging challenges, they were quite willing to provide PW with a wish list of robotic technologies and applications that they would like to see developed by manufacturers. Nearly 70 respondents took the time to write in their comments.
Among the challenging applications addressed were frozen storage environments, pharmaceutical e-pedigree applications, mixed product and packaging pallet loads, and pick-and-place for sticky products. A comprehensive wish list can be found online at packworld.com/article-32081.
Companies in this article