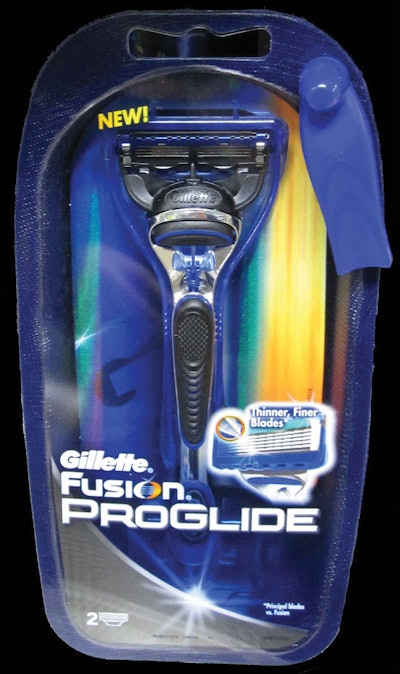 To see what's new in the world of holography, look no further than The Cast & Cure™ process. It's one of the latest innovations in holographic technology that is especially suitable for packaging applications, offering brand leaders another decorative option to make sure their products stand out and catch the eye of busy consumers browsing the supermarket shelves. It can also offer huge savings over the use of conventional holographic laminates—up to five times more.
This technology, supplied by US-based Breit Technologies (www.breit-tech.com) but originating from UK company Foiltone Ltd, is a decorative coating process that integrates 'casting' and 'curing' techniques to form a consistent high-quality surface that can include ultra high gloss, matte, and holographic finishes on a variety of substrates. A UV-curable resin is applied to the substrate and the holographic relief pattern is pressed into this from a reel of holographic film. The resin is cured under UV light while in contact with the holographic film, which is then detached and rewound.
Cast & Cure is also environmentally friendly. Using ultraviolet inks and coatings ensures there are no undesirable and harmful VOCs (Volatile Organic Compounds). It also can make packages more recyclable by eliminating the laminated metallized films used in traditional holographic processes. The most significant benefit is this is all achieved at a fraction of traditional costs.
We are already seeing how Cast & Cure's potential for applications in the decorative print market is beginning to emerge as more and more packaging designers and suppliers realize the marketing and design benefits for incorporating product branding, as well as the anti-counterfeiting and authentication advantages. Global brand leader Procter & Gamble has made it a central feature of the attractive packaging for its Gillette Proglide Fusion Power, launched at the beginning of the year. The vertical holographic rainbow lines on the square box in which the replacement cartridges and razor pack sit have been designed to catch the eye.
Cast & Cure is a technology to keep an eye on. Look for additional applications in cosmetics, food and drink, and pharmaceutical packaging. Applications of this new generation of holographic decorative coating will also surface in areas outside of packaging like greeting cards and DVD packs.
Elsewhere, Yiming Holotech (www.ymholotech.com) in China has developed a highly efficient system of eight-colour printing and holographic embossing that produces a high-quality seamless PET holographic lamination film at a rate that makes it cost-effective for a broad range of tobacco, drink, medical, and cosmetics packaging applications.
Brand-protection apps
Holography is also pushing the boundaries in other areas of packaging, specifically in expanding the range of anti-counterfeiting and brand-protection applications. The technology's ability to incorporate other data forms and product tracking information is becoming increasingly important, and commercially acceptable, with the added bonus of being able to link on-pack product identification with supply chain management, market enforcement, and forensic support services.
A brand protection system for OKI Data Corp., for instance, uses Lippmann photopolymer holograms combined with a tracking code. It's an interesting development that provides a high degree of packaging authenticity and can be used as a measure against counterfeit ink ribbons and toner cartridges. Millions of fake toners and inks are seized annually in a sector where the major suppliers lost almost $2 billion in 2003 to the counterfeiters, according to an Imaging Supplies Coalition report.
The OKI Data application is claimed to be the world's first system combining a Product Control Authentication System (PCAS) from TUV Rheinland (www.tuv.com) and a Lippmann hologram from Japan-based printing giant Dai Nippon Co Ltd. (www.dnp.co.jp). The combination of special materials and manufacturing processes makes it extremely difficult to counterfeit a package like this. Product authenticity is further ensured because of the inclusion of the security device on a self-adhesive label, which also acts as the carton seal, while the PCAS number can be entered on to a new web-based service, managed by OKI, as its authenticity assessment web page. The PCAS number uses a randomly generated 13-digit alphanumeric code that is encrypted to produce an ID code unique to each label for every single item.
Another innovation emanating from China comes on the back of the realization that security features can also be incorporated into the holographic effects. They need not be purely decorative. For example, the Hongyun-Honghe Tobacco Group in Yunnan has embraced holographic technology for many of the tobacco products it manufactures. The packs of some cigarette products, including One Pen of Qingdao Cigarette Factory and Liqun of Hangzhou Cigarette Factory, have full-space holographic laser designs or sectional laser designs on them while the Yun Yan packaging contains micro text that can be seen with a powerful hand lens.
As technology continues to develop, there's no reason why the hologram will not continue to evolve as packaging designers become ever more comfortable with it and continue to see the benefits unfold before their eyes.