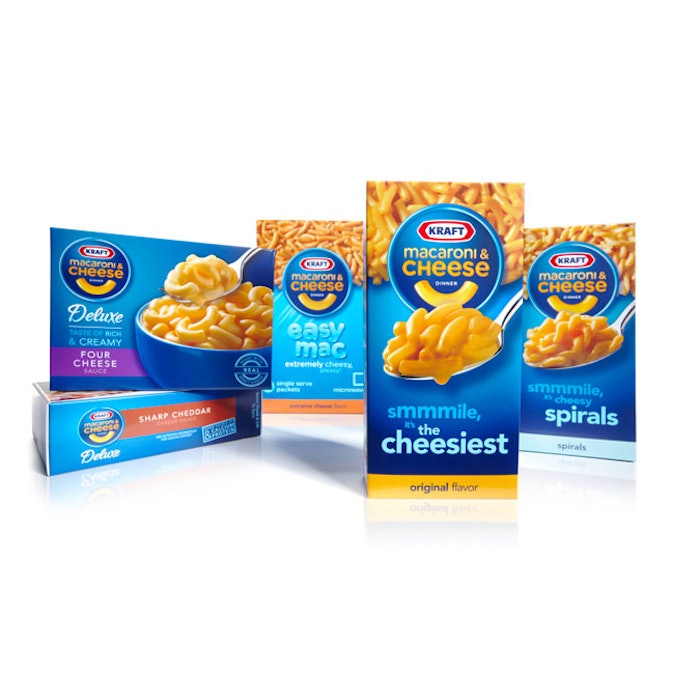 Get used to seeing the "noodle smile." It is the signature element of a new visual identity for Kraft Macaroni & Cheese. It represents happiness, smiles, and joy, core equities that consumers associate with the Macaroni & Cheese masterbrand, and Kraft Foods will feature it across all touch points for the brand, including packaging and advertising.
The redesign is part of an overarching plan, based in part on consumer research, to update the iconic brand while also being respectful of its classic equities.
"We listened to our consumers and identified the opportunity to act as a single brand with a variety of delicious offerings, thus creating a unique brandmark to unify our portfolio and further differentiate the brand on shelf," says Hanna Midura, Kraft Foods' director of design and innovation. "This foundation set the stage for all of our partner agencies, from advertising to creative, to use the same elements, resulting in a more cohesive and impactful brand across the board."
Kraft Foods, working with Landor Associates, updated several other Kraft Macaroni & Cheese brand elements, in addition to redesigning the packaging. Those actions included:
• A new brand toolbox, including typography, shapes, colors, patterns, and even sound.
• A refreshed brand architecture system to unify three subbrands—Macaroni & Cheese, Microwavable Dinner Cups, and Deluxe.
• A more contemporized brand communication style, including a nomenclature system to support the new packaging, visual identity, and advertising.
The redesign is the most significant for Kraft Macaroni & Cheese since 1999. The new packaging is supported by an extensive advertising campaign. The new packaging rollout began at the end of 2010 and is extending into 2011.
Companies in this article