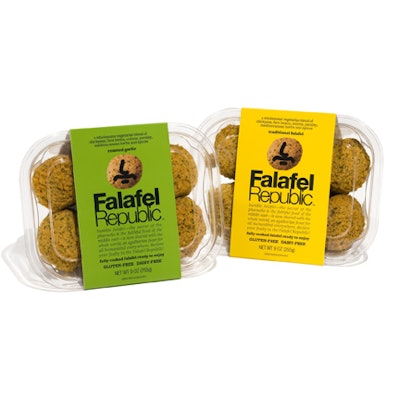 It might be a new food option for some consumers, but Greg Bukuras, founder of Falafel Republic, Needham, MA, says it is believed to have originated 4,000 years ago with the pharaohs.
So when Falafel Republic introduced its namesake gluten-free, dairy-free falafel, the package design played an important role in positioning the product. Bukuras approached Mark Oliver Inc., a brand consultancy, to develop a branding concept for the packaging.
Rather than build the product's appeal around the fact that falafel is a vegetarian protein substitute, the creative team focused on Americans' fascination with international trends and growing interest in authentic ethnic foods. "But to capture the attention of our target consumer, we also had to appeal to their sense of fun, fashion, and food," says Mark Oliver, principal of the firm.
The design accomplishes those objectives through a brightly colored label on clear plastic trays that contain the products in the line. The labels use contrasting fonts and a creative storyline, as well as a bold falafel ball character, to convey branding flair that appeals to consumers. The clear container assures consumers of the freshness of the product and also creates appetite appeal, Bukuras notes.
Companies in this article