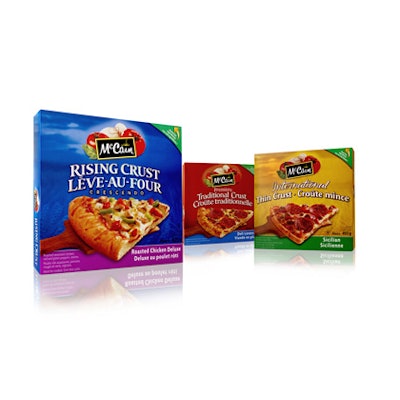 The impetus behind the redesign is McCain Foods' commitment to use ingredients such as specially selected potatoes, real cheese, green peppers, and vine-ripened tomatoes in its products—simple ingredients that consumers would find at home. In addition, McCain has removed unfamiliar ingredients and explained to consumers the reasons behind the changes.
Working with Anthem Worldwide, a Schawk Strategic Design Company, McCain is leveraging package design as the transformation of its product line unfolds; the company already has reformulated more than 70 product recipes.
Research shows that 85% of Canadians are looking for prepared foods that are made with real ingredients they can recognize, and 86% want food companies to be more transparent about the ingredients in their food products," says Heather Crees, McCain Foods vice president of marketing. "We are responding to their need for simplicity and transparency and believe this will help strengthen Canadian consumers' connection with the McCain brand."
The redesign leverages the each package's back panel to bring greater transparency to consumers with more detailed messaging. The text reinforces the simple-ingredients message and helps reconnect consumers with the company's "It's all good" message.
Schawk's printing technologies helped McCain achieve vivid printing to help shoppers see the quality of the food on the front carton panels. At Schawk's recommendation, McCain opted for a matte finish on flexible bags of frozen potatoes to achieve the look of a more natural product.
Companies in this article