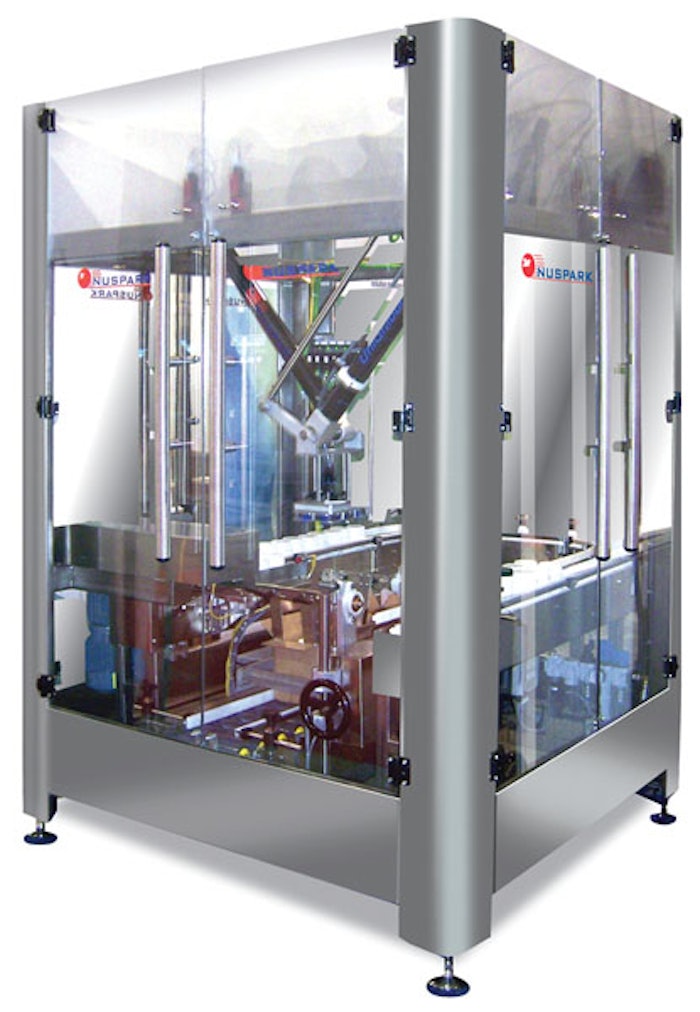 Nuspark, Inc. (www.nuspark.com) takes a modular approach to machine building in its Model NTL-50 case packer. A Delta-style robotic case packer, the NTL-50's throughput can be doubled simply by adding a second robot arm to the frame and activating a new software module. No additional controls cabinet space is required for the second robotic arm's servo drives because the Elau PacDrive iSH Intelligent Servo Modules from Schneider Electric (www.elau.com) have servo motor and drive integrated into a single unit.
The controller on the NTL-50, also from Elau, is the Model C-400. Felix Elent, vice president of operations at Nuspark, describes it as "very powerful."
"It's capable of handling up to 16 axes of motion," says Elent. "In this case we don't have a 16-axis robot, but we do on occasion have a two-robot application. And the one controller is powerful enough to run them both. That's a four-axis assignment, and then elsewhere in the machine we can have other servo motors performing other tasks. Still, the one controller is all we need."
Wiring requirements are also simplified, says Elent, again because of the drive/motor combination. "We have a distribution block and the wiring from the motor runs into that," he says. "Then from the distrubition block we run only one cable to the control panel."
The operator interface, the Schneider Electric Magelis HMI, makes the machine operator-friendly. It also incorporates the OMAC Packaging Work Group's PackML state model. The operator can teach the robot and collating system to handle new products with no additional programming or investment.
The robot arm, says Elent, is remarkably simple. "Compared to a gantry-style machine, it's much simpler from a mechanical point of view. The robot is a parallel kinematics robot, which means there are two kinematic chains from the base to the end effector. Two 'legs' directly connect to the two servo motors through gear boxes and are linked together at the end effector. The software written by Elau converts the rotation of the two servo motors in such a way that their combined motion precisely positions the end-of-arm tooling where we want it to be."
Behind this application of robotic kinematics is object-oriented software that conforms to the IEC 61131-3 standard. The software program is composed of a collection of individual objects rather than a long list of instructions to the computer. Each object is capable of receiving messages, processing data, and sending messages to other objects. Using these pre-engineered software building blocks makes Nuspark's customized packaging systems that much more efficient, consistent, and economical to develop and own.
The NTL-50, which can be fitted with either mechanical or vacuum end-of-arm tooling, can operate at speeds to 50 cycles/min and handles payloads up to 45 kg.
Companies in this article