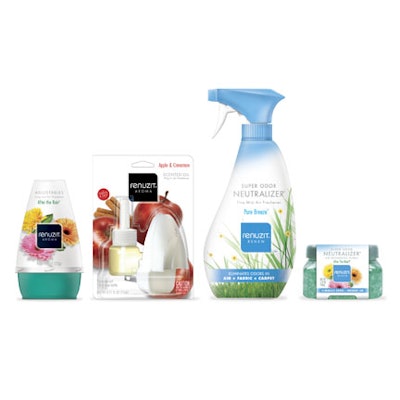 Dial Corp. is using a new visual positioning on shelf, Renuzit's fragranced products differentiate themselves from competitors by focusing on the consumer's mind-set as they stand in the midst of a clean-air room.
In early research conducted with Wallace Church (www.wallacechurch.com), Dial determined that consumers could readily associate the cone shape of the Adjustables-style deodorizer with Renuzit. "But consumers had no idea the brand had a presence in any other segments, such as scented oil, odor neutralizer, and gel, so we started with a clean slate," says Russ Napolitano, vice president business development at Wallace Church.
Dial would not provide specifics about the core Renuzit consumer or the brand positioning, but said the design objective was to hold the brand family together while also bringing awareness to all products in the line. Napolitano said this was accomplished by creating visual "mood boards" that capture the essence of the Renuzit consumer, based on interviewing and prompting. Next, the creative team visually personified Renuzit consumers in qualitative research through two designs that were shown to consumers.
After completing eye-tracking studies with Perception Research Services (www.prsresearch.com), the team settled on two designs. The Renuzit Aroma products—those that put odors into the air—are identifiable by a square, black-colored logo on either shrink-sleeve labels on the cone-shaped Adjustables Long Last Air Freshener or on the paperboard graphics card for the Scented Oil Plug In Air Freshener.
Renuzit's odor-elimination products—Super Odor Neutralizer Fine Mist Air Fresher in a pump spray bottle and Super Odor Neutralizer Air Refreshening Pearls on a sleeve label decorating a jar—carry a square, light-blue-colored logo and a light-blue-colored band at the bottom of the label that says, "Eliminates Odors."
Companies in this article