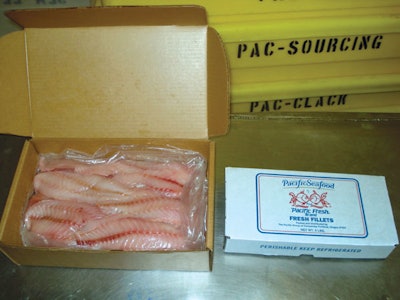 As we gear up for hot weather, the seafood industry readies itself for another busy season peppered with new challenges. With the rising cost of gas and an increasing demand for sustainable products and packaging, seafood distributors must find a way to ship fresh fish, mussels, clams, crabs, and lobsters in a cost-effective and environmentally friendly way.
It's no surprise that a healthy environment means a healthy ocean, which yields a heartier and more bountiful supply of seafood. Although the success of the seafood industry is directly tied to the health of the environment, packaging in this industry has traditionally been less than eco-friendly. Typical packaging for the seafood industry includes polystyrene foam containers and/or heavily waxed corrugated boxes, both of which are petroleum-based and therefore not recyclable. Under increased pressure from consumers to provide environmentally friendly products, major retailers are seeking out suppliers who can deliver quality without sacrificing sustainability.
To meet this need, Pacific Seafood Group, Portland, OR, a family-owned seafood distribution company, turned to strategic business partner and corrugated manufacturer, Georgia-Pacific. The company presented Pacific Seafood with Greenshield, a family of recyclable corrugated solutions with a proprietary moisture-resistant coating. The new corrugated solution is a cost-effective alternative to PS foam (expanded PS or EPS) and heavily waxed boxes—it delivers tested strength and is 100% recyclable.
"Pacific Seafood is committed to reducing waste in order to sustain our resources, meet the demands of our customers, and mitigate our overall environmental impact," says Frank Dulcich, CEO of Pacific Seafood. "We now use Greenshield to distribute our fresh, frozen, and prepared seafood products to customers around the world. Greenshield is not only recyclable, it also provides the insulation properties and water resistance we need to maintain the integrity of our seafood."
Product safety, warehousing, and logistics are important factors that must be accounted for when selecting a packaging alternative. If these factors are not considered properly, suppliers may face packaging damage and product quality issues, causing additional waste and inefficiencies. For example, unwaxed recycled corrugated lacks the water resistance and material strength necessary to withstand the stresses of shipping frozen products. By contrast, products in the Greenshield line can withstand the stress of shipping fresh and frozen seafood, while also taking up less space in warehouses and trucks than polystyrene foam. Space optimization decreases the total amount of shipments necessary, thereby reducing fuel usage and greenhouse gas emissions.
Beyond incorporating alternative packaging into their corporate sustainability initiatives, Pacific Seafood takes proactive measures to decrease waste from other corporate streams. The company engages in studies that evaluate its carbon footprint and investigates innovative methods of utilizing its resources—natural and manmade—to ensure a sustainable seafood supply for generations to come. For instance, the company's seafood waste is processed into fish-based organic fertilizer. Annually, this reuse process prevents millions of pounds of fish by-products from entering U.S. landfills.
Companies in this article