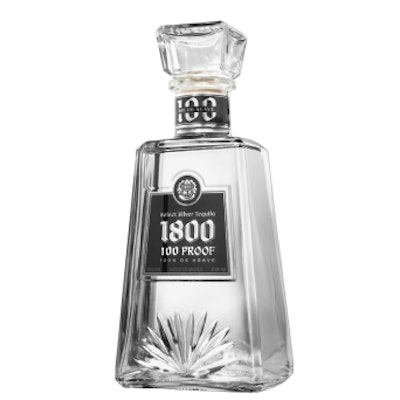 The latest launch from Super-Premium spirits distributor Proximo Spirits of New York City, 1800 Select Silver Tequila uses the brand's iconic, Mayan pyramid-inspired bottle design to convey authenticity and luxury. The first 100-proof, 100% blue agave tequila, Select Silver joins Proximo's Silver, Reposado, and Añejo tequila varieties in using what Elwyn Gladstone, Proximo's vice president of marketing, says is "tequila's most widely recognized bottle."
The 1800 Tequila brand is named in commemoration of the year in which the first expertly aged tequila was unveiled. The product, still using the original formula created in 1800, uses eight-year-old agave grown on a family-owned ranch in Mexico that's double-distilled and matured in French and American oak barrels. The tequila is then bottled in Mexico in a cosmetic-grade flint-glass bottle, supplied by a proprietary Mexican vendor.
Mexico 'flavor' bottle

Standing a sturdy 9.25 in. tall, for the 750-mL version, the bottle exudes a strong south-of-the-border character, with its shape replicating ancient Mayan temples and the spiky, fan shape of an agave plant engraved on its front panel. The bottle's sizable, square stopper, embossed with the 1800 logo on top, doubles as a shot glass, "livening up any party scene," reports Proximo.
Silver Select uses paper labels with a rich, matte-black background, embossed in silver for the front, back, and neck of the bottle to convey "a smooth, elegant look, reflecting the velvety smoothness and premium nature of this product," relates Gladstone.
She adds that the product is "flying off the shelves" in key markets such as Detroit, Jacksonville, FL, and Oakland, CA. The 750-mL bottle is priced at $29.99; 375-mL and 1-L versions are also available for $17.99 and $34.99, respectively.
Companies in this article