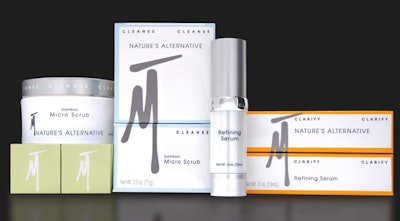 By positioning them as "lifestyle brands" to drive the overall marketing strategy. Mario Tricoci Hair Salons & Day Spas offers an engaging example of how to do it in exclusive, personal-care products.
When recently introducing six new products to its Nature's Alternative brand lineup, Mario Tricoci also updated the packaging.Packaging across the 19 SKUs in the Nature's Alternative family of cosmeceutical skincare crèmes, lotions, and serums maximizes emotional impact.
The line's various packaging dimensions allow for shelf variances at each of Mario Tricoci's 20 salons in Chicago, IL, and elsewhere in the Midwest, where the brand is marketed exclusively. In addition, the clever use of design maximizes the package "billboard" on salon shelves by extending the stylish Nature's Alternative logo over two stacked cartons.
Triumph Packaging Group
(
www.triumphpackaging.com
) produces the SBS cartons.
This approach enables Mario Tricoci to display the packaging as a stunning planogram to maximize branding inside its salons, says Mary Stover, new business development manager at
Eight Marketing Communications
(
www.why8.com
), which designed the new packaging for Nature's Alternative. After consumers use the products, the visually striking packages can double as bathroom accents.
"The new packaging now reflects the freshness of our natural ingredients, such as pumpkin seed oil, peppermint, and eucalyptus, with very powerful healing properties," says Elaine Sauer, Mario Tricoci spa director.
Companies in this article