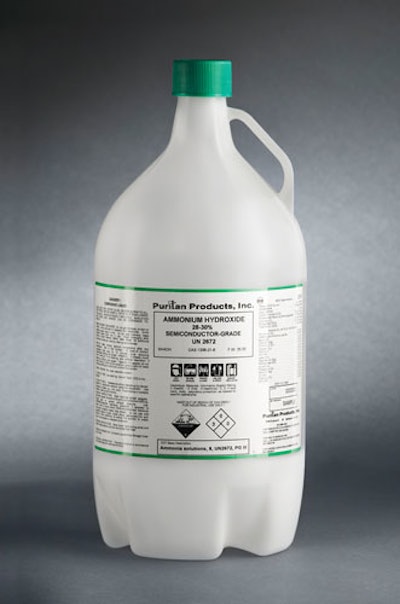 In semiconductor manufacturing, contaminants in minute amounts can have devastating effects on microcircuits, and on the bottom line. Chemicals are used to remove traces of organics, metals, oxide residues, and other contaminants, but are themselves a potential source of contamination. Therefore, maintaining high purity throughout the filling and packaging of these chemicals is critical. The process must begin with a container that is free of contaminants. "Using an ultra-clean container ensures the purity of our formulations and demonstrates to our customers that we are on the cutting edge when it comes to maintaining the quality of our product," explains Lou DiRenzo, president of Puritan Products, a leading supplier of chemicals for the semiconductor and laboratory industries.
A 4-L (1-gal) ultra-clean pressure-bottom container from
Novapak Corp
. (
www.pvcc.com
) has proven suitable for one such chemical solution—ammonium hydroxide—used in the semiconductor industry to clean and etch integrated circuits. "The four-liter, pressure-bottom container we're using for our ammonium hydroxide product is molded of virgin high-density polyethylene in a controlled manufacturing environment," says DiRenzo. "The fact that this container is ultra-clean is a key feature that we market to our customers, and the other characteristics of the bottle make it well suited for a chemical like ammonium hydroxide."
High-pressure challenge
"The main challenge of packaging a chemical like ammonium hydroxide is withstanding its high vapor pressure," DiRenzo explains.
Ammonium hydroxide solution boils at ambient temperatures around 85°F, at which point vapor pressure inside the bottle approaches 45 psi. "The container must be robust enough to withstand such pressure and guard against swelling," he adds. "At 210 grams [0.5 lb], the container is robust and employs a concentric design that eliminates weak points where the bottle might begin to protrude under high pressures. It also has a pressure bottom, which provides stability."
Explains Alan Wood, vp of marketing for Novapak's Airopak Division, "A pressure vessel such as this cannot have a hollow molded-in handle. The inside of the container must form a bullet or cylinder shape, narrowing at the top, in order to maintain the internal pressure being exerted on the container walls and to guard against distortion. Therefore, the design of this container includes an integrated compression-molded handle, which is designed to eliminate the need for a separate, snap-on, T-type handle."
Combined, these factors work to maintain chemical purity, preserve the aesthetics of the bottle, drive down costs, and ensure safety in transportation and storage.
Barefoot bottle
The HDPE used in the production of the 4-L container is "barefoot," or free of additives and regrind. Unlike conventional blowmolded containers, the ultra-clean container uses nitrogen instead of compressed plant air as the blowing gas. The nitrogen used is highly filtered to preclude exposing contaminants to the inside of the container. "By eliminating the air compressor, the possibility of oil blow off or other contaminants entering the inside of the bottle is also eliminated," says Wood.
Cleanliness is maintained throughout the manufacturing process. Even the conveying line transporting components is blanketed with filtered nitrogen, which, being heavier than air, is pumped above the conveyor.
From the extrusion blow-molding machine, the bottles are conveyed to a leak-detection station where they are pressurized with filtered nitrogen and checked for pinholes or defects that would allow for leakage. Immediately thereafter, the bottles are capped and packed in cartons to prevent contamination. Caps are removed immediately prior to filling at Puritan Products.
The bottles are produced in Manchester, PA, at the Novapak plant nearest to Puritan's Bethlehem, PA, facility. "Having this bottle produced locally is advantageous for us," explains DiRenzo. "With larger bottles such as these, where each truckload contains only about 6,000 bottles, proximity to our supplier helps minimize freight costs."
All in all, Puritan found this bottle an ideal solution to relieve the pressure on its product and on its packaging production.
Companies in this article