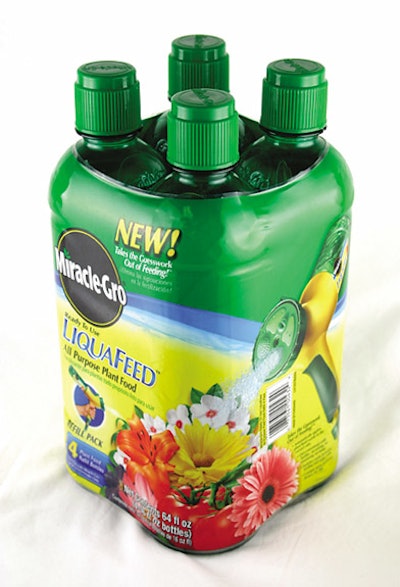 The specific structure and suppliers of the plastic bottles and caps for the pre-mixed plant food concentrate were not disclosed. But the sleeves are made from 70-micron polyvinyl chloride, rotogravure-printed in 9 colors, and they're supplied by Fort Dearborn Co.. The new multi-pack sleeving system was provided by Axon Styrotech. Technicians both from Axon and New Century Packaging, Axon's agent, were present for the installation and training at the Fort Madison plant.
Axon already had two machines installed at Scotts, but Fort Dearborn staffers helped Scotts source the new Axon sleeve application and shrink tunnel equipment. Fort Dearborn also worked with Scotts and Axon to identify the optimum sleeving material structure and size through the initial testing process and through subsequent testing to fine-tune accommodation of graphics distortions, sleeve opacity, and ink fading.
The no-mix, no-measure product and packaging are designed for ultra-convenient use in a unique garden spray-hose delivery system. A plant food hose feeding adapter (sold separately) has one screw-thread aperture that connects to the hose and another aperture that connects to the top of the opened bottle of LiquaFeed. The water and plant food are blended together within the adapter for delivery through the feeding spray nozzle.
The LiquaFeed concept was first introduced in December 2005 and moved into international markets during 2007. The average retail price of a LiquaFeed 4-pack is approximately $9.99, and it's $5.99 for the 2-pack.
Scotts marketing director Carlos Hernandez says, "LiquaFeed has been the most successful new product launch in the history of our company, and the innovative packaging design is an important part of the product's success."
Companies in this article