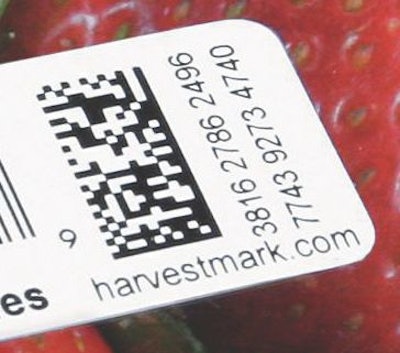 Radio-frequency identification has been singled out as a promising way to implement track-and-trace processes, especially in pharmaceutical markets where product protection is of vital importance and pilot programs have been conducted.
However, lingering doubts remain about RFID's viability, notably relating to the cost-effectiveness for lower-value products, particularly those outside pharma.
There are other, less costly and less technically challenging options to performing track-and-trace functionality, including 2-D bar codes. Packworld.com recently reported on such an application that has been commercialized: the HarvestMark (www.harvestmark.com) unit-level track-and-trace technology from YottaMark (www.yottamark.com) that's been implemented by Eagle Eye produce at its Utah facility (see Unit-level traceability debuts for produce, published July 2007).
In summary, Eagle Eye is applying a 3/4"x1/2" pressure-sensitive label to boxes of produce it ships to customers. Users can enter the label's unique identifying number at the HarvestMark.com site to learn information. We've learned that the traceability is down to the pallet level; in other words, a box of produce can be traced back to the particular pallet at Eagle Eye's warehouse from where it was shipped, and from there back to the grower including to the field from where it was harvested.
Eagle Eye produce warehouse manager Mike Jacobson told us that the system is highly cost effective: "The cost is a plus at about a penny a container, which is well worth it."
We asked Elliott Grant of YottaMark, a spinoff of Portola Packaging, about this as well as other implementations.
Update on applications
The company is working with several other applications in which the code is becoming part of the brand and of the packaging, according to Grant. In one application, the Harvestmark data is being integrated into the container's regular label design.
Grant also informs Packaging World that a produce packer is considering printing the code on the film used for its bagged produce. A standard coder mounted atop a form/fill/seal system will print the code in-line.
"Now you can print this little code, go on to the Web and type in the identification number and find out all kinds of information," notes Grant. " Such as where was the product packed? Is it part of a recall? How fresh is it? Lots of very interesting consumer information, it's accessible now, and it's all driven through the packaging.
"We are hoping that in the next couple of months, we will see lots of different applications debuting in different form factors," says Grant.
Consumers can scan the 2D bar code via a camera-equipped cellphone to upload it directly to eliminate the need to manually input the number. Currently, end-user personnel such as those at produce packer Eagle Eye are scanning that 2-D bar code with hand-held bar-code readers to make the association between it and the product information in a database.
I'd say that making the process economical and seamless to manufacturers as well as accessible and seamless to consumers at low cost seems as straightforward as it gets.
Companies in this article