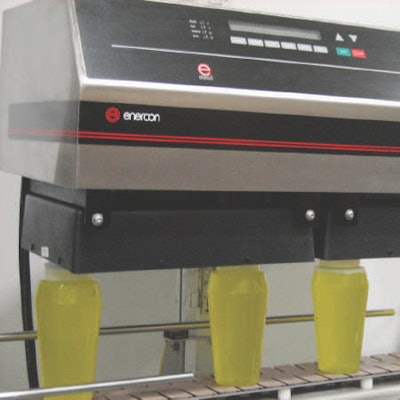 Long established as a supplier in the business-to-business market, juice manufacturer Jus-Made recently branched into the retail market with products such as coffee syrups, cocktail mixes, and dietary supplements. Such products require tamper-evident seals, so when the Dallas-based firm installed a new hot-fill line for the new products, the line included an Enercon Industries (www.enerconind.com) Super Seal Max induction sealer.

According to Tim Ray, Jus-Made's plant manager, the Enercon sealer enables the company to handle a wide range of bottle volumes and neck diameters. This is especially important because so much of Jus-Made's business in on a contract manufacturing basis. "The machine has different sealing heads available, which has allowed us to increase flexibility and the number of customers we can serve," says Ray. Jus-Made seals 63-mm cap diameters at speeds in excess of 145 bottles/min. The company also seals containers with 28-mm caps on the same line.
Cap specifics
The majority of Jus-Made's caps are high-density polyethylene with a foil liner. The caps are applied primarily to PET bottles, though some bottles are HDPE. Berlin Packaging (www.berlinpackaging.com) supplies the caps, liners, and bottles.

According to Ray, the Enercon tunnel sealing heads produce a more effective seal by running the electromagnetic current vertically as well as horizontally. The sealer is air-cooled, requiring little maintenance, and its plug-in sealing head design makes changing heads quick and easy, says Ray.

In addition to providing tamper evidence, induction sealing extends the product's shelf life. "That can be a great help to our distributors and retailers, and we can stock more inventory," says Ray.

Companies in this article