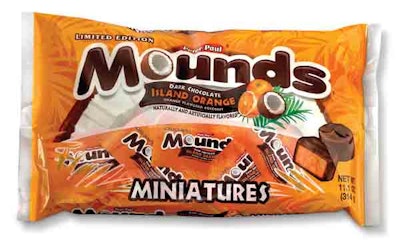 American Packaging Corp. (APC) delivered the seven-color flexo-printed graphics by employing on its press DuPont Packaging Graphics' (www2.Dupont.com/Packaging_Graphics/en_US) digital FAST printing plates and solvent-based inks from Inx Intl. (www.inxinternational.com).
"We installed the system and got it running last June," says Jon Parkes, APC's graphics manager. "It was something we had looked into for a long time. We are able to get registration with virtually no variability across the web. The FAST plates enable us to print smaller and more stable highlight dots. We don't run into issues with plate swelling that you can sometimes get with solvent-based plates, where the solvent seeps into the plate and the plate actually swells and expands slightly." When that happens, he says, "you can apply too much impression to your highlight dots" during printing. He says that with the FAST system, because there's no solvents in the processing, the plates are less susceptible to those solvents on press.
Cost-wise, Parkes says using the FAST plates is similar to other printing plates on a square-inch basis. "Solvent-based plates usually take several hours to process. With our imager and processor, we can image a plate and have it on the press within an hour to an hour-and-a-half. So that's where the economics kick in for us. We reduce downtime on issues such as when you don't want to pull a job off the press" to check print quality. With this system, "we can just shut the press down," if necessary, "make a plate quickly, and get it mounted back on the press in a short period of time compared to other solvent-based systems."
The Hershey Mounds Island Orange secondary bag is a 2-mil adhesive lamination of 0.70-mil oriented polypropylene and a 1.25-mil linear low-density polyethylene sealant layer. The bag measures 14"-wide and is printed four-across on the web printed on a flexographic press at APC's Story City, IA, plant. The printed web is slit and the rollstock is shipped to Hershey's Naugatuck, CT, facility for vertical form/fill/sealing of the product, according to Parkes.
For the Island Orange bag, Parkes recalls, "We did two or three different press runs for them and they filled the pipeline with this product. They will do special flavors and if they take off, they look to introduce them as 'every-day' flavors." The product was sold nationwide last spring and summer and proved to be successful according to a Hershey representative.
Companies in this article