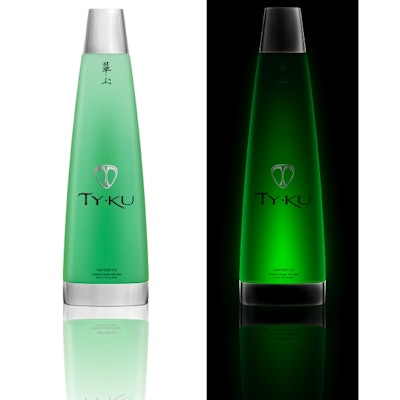 Few packaging developments combine knowledge of angstroms, wavelengths, motion-sensor technology, CAD, glass molding, light-emitting diodes (LEDs), soldering, packaging, and environmental regulations, but TY KU does.
What started as a school project has resulted in the launch of a new product, TY KU, "the world's only sake liqueur," in a one-of-a-kind bottle that lights up.
TY KU and its 'enlightening' packaging represent the ingenuity of two entrepreneurs, Kirk Spahn and Trent Ulicny. The concept was hatched as part of a business class project at Columbia University that three years later became a reality for their own startup company, Ty Ku Intl., Manhasset, NY. The product is rolling out in Las Vegas now with New York next. It sells for around $30 at select retail locations.
Developed from scratch

"It would have been a lot quicker had we had some kind of a packaging guru, but we didn't," says Spahn "We really taught ourselves because we did the entire packaging, the bottle design, everything from scratch."
"We went around the world trying to put this together," adds Ulicny, who learned to solder during the project research and development. That legwork involved numerous visits to vendors in Asia that included a three-month stay in India to perfect the right LED technology. Ulicny finally gave up and went on to China where he found the LED sourcing needed at a factory he says was amazingly automated. In fact, China proved the source for the frosted bottle, as well as packaging production for the product. The sake comes from Japan.
Producing a bottle that lights up on its own is a major achievement within the beverage and spirits market: Ulicny says several companies have spent millions trying to do this very thing. The bottle lights up only when lifted to conserve batteries and create more of a sensation at bars and nightclubs. The bottle-lighting technology is patent-pending worldwide.
You may wonder what kind of grade their project received back in school.
"Not only did we get an A, but our professor wanted to provide some startup funding," says Spahn.
I'd say the duo has made the grade.
You can read more about this innovative package in an upcoming issue of Packaging World.



Companies in this article