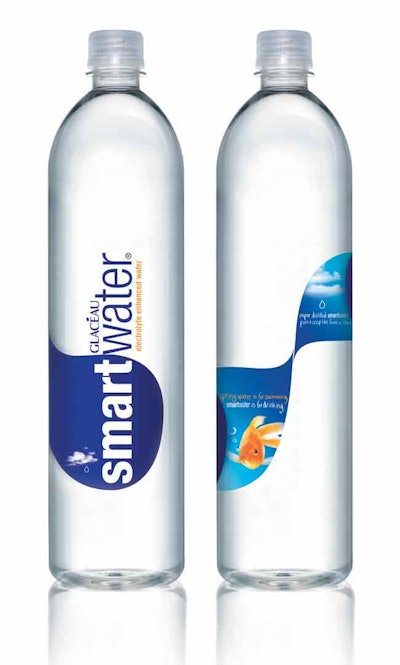 The company moved away from a commodity look and focused on the water's functional benefits, says Rohan Oza, senior vice president of marketing.
"The packaging enhances shelf presence while communicating Smartwater's unique benefits, which are water that is vapor-distilled for purity you can taste and that is electrolyte-enhanced for rapid hydration," Oza adds.
The new graphics tell the brand's story on both the inside and outside of the label, bringing the brand's purity benefits to life, says Tammy Vaserstein, Principal at MoxieTM (www.moxietm.com), which created the new look.
The signature new graphic is a fluid, raindrop shape. Appearing on the label exterior, the raindrop pattern flows across the shelf to create energy and movement.
Elsewhere on the label, an iconic cloud appears within the blue teardrop. The cloud conveys perceptions that the water is as pure as the first drop of rain from a cloud. To enhance the visual drama, the brand name is printed vertically as a color-reverse on the label, positioned to seemingly burst out of the raindrop and say, "drink me."
Glaceau visually engages water drinkers from all sides of the clear PET bottle. An image of a goldfish is reverse-printed on the interior side of the label.
Companies in this article