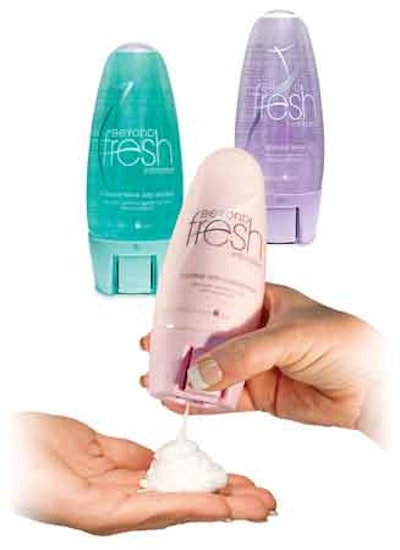 Confident in its new 11.5-oz Beyond Fresh Intimates line of three feminine hygiene products (see packworld.com/go/c164) packaged in inverted, clear plastic containers, Lake Consumer Products presented them to Wal-Mart for consideration early last year. The good news: Wal-Mart wanted the product in its stores nationwide. The challenge: The retailer wanted them in stores by May 2005.
With the help of supplier Terco, Inc. (www.terco.com), Lake Consumer Products was able to meet Wal-Mart's deadlines. "Wal-Mart said it loved the Beyond Fresh Intimates line, but it resets its store aisles in May. If you're not ready to ship before then, Wal-Mart won't hold a spot for you," says Michael J. Kermendy. He's the director of marketing for Lake Consumer Products, a subsidiary of Jackson, WI-based Wisconsin Pharmacal Co., LLC (see sidebar, p. 51).
At that time, Lake relied on a contract packager (CP) to produce Beyond Fresh Intimates. "We had been working very closely with the company on developing the systems to fill the product," explains Kevin Reed, Lake's vice president of manufacturing. "It was a joint venture with closure supplier Seaquist Perfect Dispensing" (www.seaquistperfect.com).
Seaquist supplies an injection-molded polypropylene dispensing closure with an actuator, and an aerosol valve that's hand-pressed to the mouth of the 19-g inverted polyethylene naphthalate (PEN) container from Graham Packaging (www.grahampackaging.com). "The CP had an aerosol filling line that it was adapting to fill the product into the PEN bottles," says Reed.
Wal-Mart's challenge was daunting enough, but Lake soon faced an even larger hurdle. "The CP filed for bankruptcy," says Reed. "We had discussed bringing filling in-house as product sales grew, but when it went bankrupt, we had six to 10 weeks to put a line together."
Reed recalls that Lake Consumer representatives had conversations with Terco's people at the Packaging Machinery Manufacturers Institute (www.pmmi.org) Pack Expo show in Chicago in 2004. "We laid out a timeline of what we needed and Terco said it could meet that timeline. In six weeks Terco had the line built.
"The advantage of Terco," Reed continues, "is that it had the conveyors, tables, or stations, in stock to fill the product. We did performance testing at Terco's facility in Bloomingdale, Illinois, then the company dismantled it and shipped it here. Its people came up here to train our personnel. The line was installed and set up in about another two weeks, so we were running the line by the end of February, eight weeks from when we issued purchase orders. We had to have product to Wal-Mart by the first of April."
Product challenges, too
Kermendy says, "I think it's critical to realize that there's a delicate balance between the packaging and the content of the Beyond Fresh Intimates product." Feminine Wash, Feminine Shave and Shower, and Feminine Skin Conditioner products are filled as colorful liquid gels. When dispensed, the products come out as foam.
The product-package balance, Reed says, involves "the method of manufacturing where you're filling the product and adding a reactant that acts with the base liquid to create the propellant in the container. This is not a traditional aerosol where you add propellants. Our product creates its own propellant. I think we're the only company using a plastic container that's under pressure, which is around 100 psi. The formulation keeps recreating that pressure as you use the product inside."
Reed points out, "There was a lot of fine tuning. We conduct off-line in-process checks during the filling operation to check pressures and container weights to make sure we stay within established guidelines."
Walking the line
Once Lake decided to fill Beyond Fresh Intimates at its own facility, it opted to relocate a line to accommodate the new Terco machinery. It already had the air and electric utilities in place.
Reed says PEN was the resin of choice for the Beyond Fresh Intimates containers "because it was able to contain the CO2 and not let it migrate out to the plastic that could cause bottles to lose pressure." That pressure remains for a minimum of 36 months, says Kermendy.
At the beginning of the line, an operator places containers into pucks on a single-lane conveyor that indexes them to a Terco rotary unscrambler that directs them downstream on the conveyor. Product is volumetrically filled through the container's open neck, which is face-up on the filling line. Later, after a valve is crimped on and an overcap applied, the product is sold on its cap on store shelves for easy dispensing.
Graham supplies bottles that are decorated with full-body shrink-wrap labels sourced through Gilbreth Packaging Systems (www.gilbrethusa.com) and applied by Visual Pak (www.visualpak.com). The 2-mil PETG labels are printed by gravure in three colors.
Bottles are conveyed in a straight line through the Terco aerosol filling system. At the first fill station, about half of the liquid gel is dispensed into the bottle that's held in place in the puck. Reed says speed isn't the priority. "We run at about 26 to 28 containers a minute, but we can do 40 a minute."
The second fill head dispenses the remaining liquid gel into the clear container. The container is then purged with carbon dioxide to remove oxygen in the headspace. A valve is manually positioned onto an assembly that is then automatically crimped onto the neck of the container by Terco equipment. A high-pressure Terco filler fills reactant through the container valve.
At the next Terco machine station, Seaquist's injection-molded polypropylene color closure is manually pressed down over the valve onto the bottle. A Videojet (www.videojet.com) ink-jet printer then prints lot number and time-produced codes onto the shoulder of the bottle. Bottles are removed manually from pucks and filled into shipping cases before they're automatically stretch-wrapped on pallets for distribution. Meanwhile, the pucks are conveyed back upstream to the unscrambler for reuse.
Justifying the line
Reed admits that Lake isn't running the line as often as it would like. But bringing the line in-house to satisfy Wal-Mart was important in the financial justification of the packaging equipment. There's another factor, however, in determining the line's ultimate return on investment.
"We've looked at the line not only from branching out internally with our own brands, but also from a contract packaging standpoint," says Kermendy. "I think we're on the verge of having many more companies investigate this gel-to-foam technology. It's a great way to dispense product. It has a real nice clean look. We've had conversations with some major companies in the U.S. about products that they would put into this type of packaging.
"For us," Kermendy adds, "part of the justification for the line is that this product is doing very well. Just launching this as a brand for us was a major initiative. From a filling and production standpoint, we would love to keep the line humming every day. We have proven we can do that. During the rollout of Beyond Fresh Intimates we were running two shifts, sometimes three during one stretch. We shipped out nearly 500ꯠ units initially, in special display units. We're now in Wal-Mart, Walgreens, Kmart, Rite-Aid, and major drug chains and grocery stores with Beyond Fresh Intimates." The products retail for $6.99.
Reed adds, "We could also upgrade this line because of its modularity. We chose Terco because it was a major player in the industry in aerosol filling technology. They were excited about our launch, too, because it was something different for them. We worked closely with them to develop this line. We could automate the valve insertion and overcapping steps, depending on sales. Not one piece would have to be removed. Everything out there could be upgraded by adding more pieces. There's a lot to say for the flexibility of using a modular system for coming out with new products."
See sidebar to this article: About Lake Consumer Products / Wisconsin Pharmacal
Companies in this article
Videos from Universal Labeling Systems, Inc.