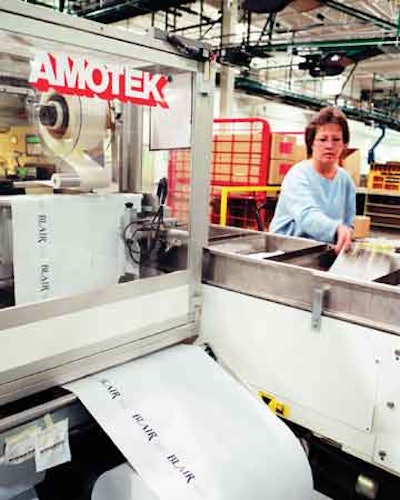 Catalog clothing company Blair Corp., headquartered in Warren, PA, operates a major distribution center in Irvine, PA. The center had been using two box-making machines, requiring 11-12 workers per machine, to process 1ꯠ-1겨 packages per hour per machine. Much of the machinery had been in operation since the 1970's and 1980's, and packaging upgrade enhancements were needed to keep pace with Blair's growing business.
As part of an overall automation upgrade in 2003, Blair installed four Amotek Model X2 bag form/fill/seal machines from Optima Machinery Corp. (www.optima-usa.com). Frank Durante, assistant maintenance manager for Blair's Irvine distribution center, says, "The X2's were the newest machines available to meet our needs, and personnel from Optima were very helpful. They had 100% involvement from machinery installation in January 2003 through when we went live with the baggers in March 2003."
Bagging machine operation
Utilizing a mono-layer, 2.5-mil thick, co-extruded polyester roll stock film from Pac National, Inc. (www.pac.com), each X2 machine automatically forms the bags and moves them into the machine's feeding station. Single and/or multiple items of apparel, as well as any accompanying inserts such as packaging slips, coupons, and catalog materials, are placed manually onto an infeed conveyor and travel past a photo-eye, which signals the machine to move a bag into position for automatic product insertion.
The final item which is placed in the infeed bucket is the customer's invoice with bar-coded information. The bucket then passes underneath a bar-code reader and pulls the proper shipping information/
address from Blair's IBM AS/400 computer system. This information then is sent to the Zebra Technologies (www.zebra.com) print and apply labeler mounted inside the X2 machine. The labeling information then is automatically printed directly on the flattened bag.
The filled bag is channeled to the last sealing station for the final bag weld/seal operation. Any bag scrap waste is removed by means of mechanical separation, and the finished package is automatically discharged from the machine.
Gary Wagner, Blair's supervisor of packing/shipping at the Irvine facility, notes, "We run a total of four bag sizes. And because we have four machines, we have the ability to set different bag sizes at the different machines. So bag size changeovers don't present any major downtime concern for us."
Bagging machine benefits
By replacing two boxing machines with four bagging machines, Blair Corp. has been able to realize significant savings in labor and packaging materials costs. Jim Cowan, operations project manager for the distribution center, explains, "We can run all four bagging machines with the same crew required to run one boxing machine. With the boxing machines, we used a total of 11 to 12 employees and produced 1ꯠ-1겨 packages per hour per machine. With the automatic baggers, we use 3 employees per machine and produce 1ꯠ packages per hour per machine."
In terms of packaging materials costs, Blair estimates they are paying approximately .058-.081 cents per bag (depending on bag size), compared to approximately .22 cents per box they were paying with the boxing system. The company also has saved money on postal/shipping costs because the bags are lighter weight than the previously used boxes.
Companies in this article