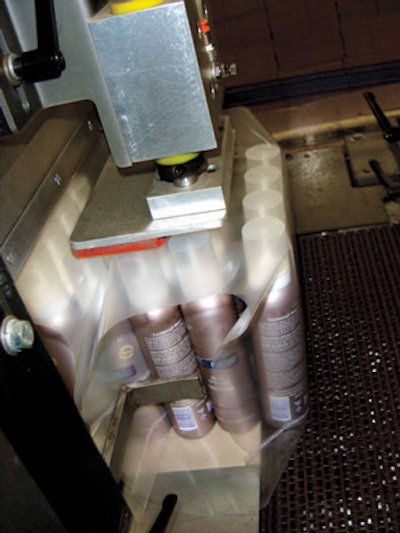 I.K.I. Manufacturing is a contract packager that operates two Wisconsin plants, one in Edgerton and one in Stoughton. The two facilities run a combined total of eight packaging lines, specializing in difficult-to-handle aerosol-packed products such as engine starting fluid, hair dyes, personal care products, household cleaning products, insecticides, and veterinary products.
I.K.I. packages an aerosol body spray product for one of its customers (customer identity is considered proprietary). The individually packed sprays in 3.4-oz aerosol can fill weights then are multi-packed for shipping. Until recently, I.K.I. was manually packing six-counts of the body spray into chipboard boxes, then loading the boxes into 12-pack and 48-pack RSC shipping cartons. But the contract packer was dissatisfied with the efficiency of this system. It was labor-intensive and slow.
Evaluation of automation options
I.K.I. business development manager Chad Moline and other company staffers began to investigate equipment that could automatically handle the secondary packaging of the body sprays. They eventually selected a Model 104 in-line flight bar shrink bundler from Arpac. Notes Moline, "In October 2004, we installed one 104 at the Edgerton plant and were able to get rid of the chip boxes, cut six packaging line workers for reassignment to other tasks, and increase production by about 300-500 cans per hour. These benefits have enhanced our bottom line as well as the customer's."
The shrink bundler uses 110-gauge metallocene film purchased from Packaging Specialties which has proven to be more cost-, storage- and waste-efficient than the chipboard box materials. The shrink bundles require no support materials such as corrugated pads or trays and cost about 20% less than chip boxes. The steel and aluminum aerosol containers are purchased from multiple suppliers.
Other equipment components on the body spray packaging line include filling and gassing equipment from Packaging Technologies, actuator valve tipping and capping equipment from Haumiller, conveying equipment from Arrowhead Conveyor, and coding equipment from Videojet. Installation and start-up of the in-line bundler took about two days in total.
Versatility is vital
As a contract packer, I.K.I. is constantly searching for and adding new equipment. Moline says, "If the equipment can increase efficiencies, reduce labor, and pay for itself in a reasonable amount of time, we buy it.
"The packaging of products is getting more labor-intensive due to different requirements and requests from various customers and retailers. The new shrink bundler helps us accommodate these requests because it can be easily adjusted as we change from one product size, shape, and multi-pack count to another. It has done exactly what we had hoped for and more."
Companies in this article