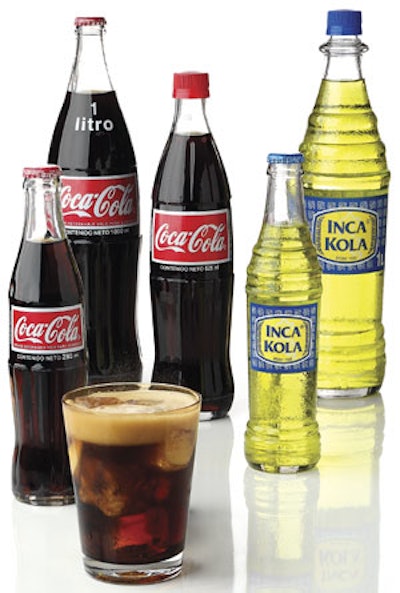 When Coca-Cola Servicios de Perú (CCSP) launched a 350-mL carbonated soft drink last March, its goal was to better serve consumer demand. CCSP selected a one-way glass bottle for the market introduction.
In the United States, plastic bottles and aluminum cans dominate carbonated soft drink packaging. But in Perú, South America, glass is a popular container. So much so that CCSP markets about 60% of its beverages in one-way or returnable glass bottles. The remaining 40% are in PET.
"Glass bottles are very common in Perú," explains Alberto Velasco, CCSP senior brand manager. "They allow Coca-Cola to deliver higher quality at affordable prices." How? "Glass extends the shelf life of our products, eliminating gas (CO2) loss, and maintaining product temperatures for a longer time when removed from the refrigerator."
When comparing the economics of glass vs plastic, Velasco points out, PET prices depend on oil prices.
Glass bottles used by CCSP are manufactured via a blow-and-blow process by O-I in Perú. O-I has supplied CCSP with glass bottles since 1993, when it bought another glass manufacturer, says Velasco.
Carl Rooth, sales and marketing manager for O-I in Perú, says O-I purchased a Lima company at that time to enter the Peruvian market.
O-I supplies Coca-Cola with returnable glass bottles in 6.5-, 8- and 10-oz sizes, 420-, 500-, and 625-cc (10.5-, 12.5- and 15.625-oz) versions, as well 1-, 1.25-, and 1.5-liters.
For one-way bottles, O-I supplies 350-cc (8.75-oz), 8- and 10-oz, and 500- and 625-mL versions. Velasco says O-I is its sole glass bottle vendor. Volumes are considered confidential. Among the brands sold in glass are Coca Cola, Inca Kola, Sprite, Fanta, Crush, Kola Inglesa, and San Luis. Nonreturnable glass bottles are sold in 350-cc (8.75-oz) sizes for the Coca Cola and Inca Kola brands.
Price points a factor
In recent years, the carbonated soft drink market has seen considerable growth in Perú. Since 2002, Coca-Cola has placed an emphasis on returnables, which has helped make glass more competitive with PET. Velasco says the country's overall carbonated soft drink market sold in glass is split 50-50 between returnables and one-ways.
"One-ways are mainly for consumer convenience, says Velasco. "The decision between glass and PET, and returnable versus one-way glass is often based on consumer needs, where a balance among convenience, product quality, and affordability is necessary to define the right package."
Product affordability is an important factor in consumer purchases, so the company determines a "magic price point" for different products and sizes. These points are rounded to multiples of S 0.50 (1¼2 of a Peruvian Nuevo Sol). The currency rate as of Sept. 8 was $1 U.S. = 3.29 Peruvian Nuevo Sol. For a 350-mL size, the magic price point is S/0.50.
Cooling process another factor
Naturally, the cost of the package affects CCSPs decision on whether to use plastic or glass. According to O-I's Rooth, the glass manufacturing method employs a shell cooling process, a proprietary technology of O-I worldwide. It improves glass distribution on the horizontal plane of the bottles. The cooling process is much closer to the mold and allows better control of cooling pressure and the amount of time required. Thereˆs more stability, which results in a better distribution of glass.
Weight reduction, he continues, is possible because the glass is designed for performance factors related to expected minimal wall thicknesses. Those thicknesses remain the same, but have a [more consistent] distribution of glass (less variation between minimum and maximum thicknesses), so the amount of glass required for each bottle is less.
"Both consumers and customers have reacted extremely well to the 350-ml nonreturnable glass bottle because they found the right balance of quality, affordability, and convenience," Velasco concludes.
Companies in this article