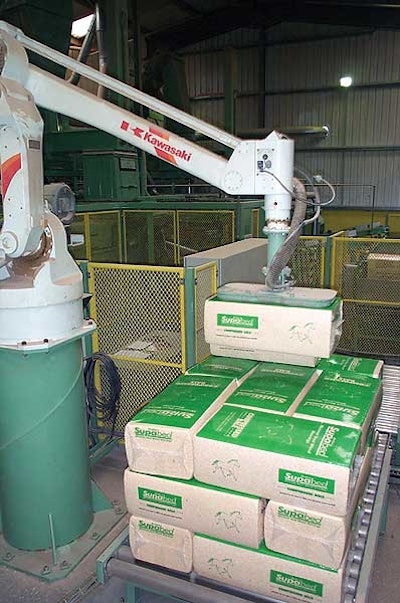 Capping off the now fully automated line is a palletless wrapping system from Tanco that is the first of its kind anywhere in the world.
According to Arden maintenance engineer Gary Farmer, three drivers lay behind Arden's move to automation: ergonomics, lower labor costs, and better presentation. "The whole system has performed beautifully," says Farmer.
The 20-kilo (40-lb) bales of film-wrapped animal bedding are conveyed to the pickup station of the Kawasaki robot. There the vacuum pickup head of the robot descends, grabs a bale, and places it on its stack. Depending on the product being baled, either 60 or 48 bales make up a stack.
A powered roller conveyor carries a finished stack to the Tanco wrapper. The stack is transferred onto a metal plate on which it remains until wrapping is finished. The first wrap is made as the stack stands upright. Once enough film has been applied to stabilize the load, the Tanco machine essentially rolls the stack around in a heavy-duty rubberized belt as the 25-micron film covers every square inch of the stack. When the wrapping is done, a fork lift is used to lift the water-tight stack to an outside storage space.
Companies in this article