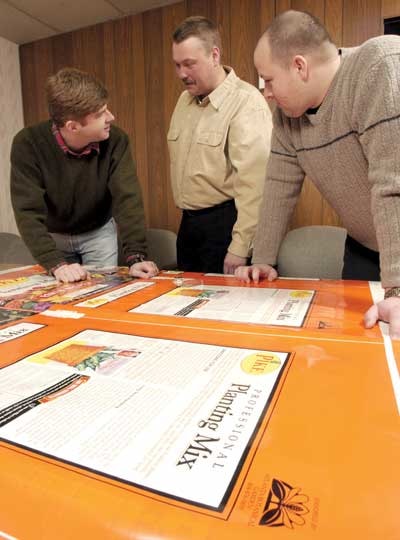 Lawn and garden packager Fafard is providing its private-label customers with the equivalent of laminated lawn and garden bags using a polyethylene-based coextrusion that's surface-printed flexo and given an electron-beam-cured coating. Exopack prints the film on a new flexo press from Fischer & Krecke. The press employs an EB coating and curing system from Energy Sciences, Inc. The process can result in a thinner bag for source reduction and cost savings.
The year-old press also includes a special pRegister system from AVT that has begun to deliver big scrap savings to the Tomah, WI, Exopack converting plant.
The in-line EB-coated bag offers a new alternative for lawn and garden bags that are often stored outdoors. Printed and coated in a single pass, this process yields most of the benefits of a surface-printed bag, but adds extra protection. A surface-printed bag is most economical, but it offers little protection for the printing. Most costly is a laminated bag, where the clear surface film layer protects the printing while it adds gloss. But it requires two separate converting steps that not only adds cost, but also involves extra curing time.
"Electron-beam-cured lacquer gives a nice middle ground between a surface-printed bag and a laminated bag," says Charles Ratterree, art director and print buyer for Agawam, MA-based Conrad Fafard, Inc. Ratterree, who works out of Anderson, SC, helps private-label accounts with graphics, then turns his hat around and bargains for the best prices. "It's my job to make sure our client receives a top-quality design, a fair price for the bags, and that they don't have to worry about it. Sometimes, like customer Pike Family Nurseries in the Atlanta area, the project is more hands-on. Other times, we're just told 'create our brand.'"
Fafard's products and those of its private-label customers are sold only through independent garden centers that compete with high-volume retailers such as Lowe's and Home Depot. "They need to have a great-looking package to be competitive," Ratterree says. "What makes it difficult is that they can't print ten million impressions like the big guys, so they don't get the volume cost breaks."
In the case of Pike's bags, the bags are all seven-color flexo, four process colors and three special colors, plus the EB-cured edge-to-edge coating. Exopack not only prints and coats, it also coextrudes the primary material and then later converts the printed rollstock into bags.
Exopack specially engineers the coextruded white film in a proprietary blend that's based on polyethylene. "We blend the coextruded material to have more stiffness, especially if we go down in gauge," says Mark Pfeiffer, national account sales manager at Exopack. "Our goal is to make a bag that not only looks but performs the same as a laminated bag. There's only a slight difference in terms of gloss, bag performance, or characteristics like coefficient-of-friction.
"In every job we've done with Fafard and its clients so far, the gauge of the bag is thinner than what had been used in a laminated bag," Pfeiffer continues. "This helps in material reduction, source reduction, and cost reduction, too." Exopack ships converted bags to Fafard's Anderson, SC, plant for product packaging. Because the resulting products may be stored outside at garden centers, they need ultraviolet light (UV) protection.
"The white tint of the base material has UV protection built in," says Lani Craddock, director of business development for Exopack. "The inks are also specially formulated for UV protection." The inks come from Color Converting Industries. The company has used several sources for the EB coating.
New press at Exopack
None of Fafard's current private-label packaging would have been possible until Exopack began to operate its new 67"-wide, 10-station, servo-driven, central-impression flexo press that feeds an EZ Cure electron beam coating application and curing system.
Installed in 2003, the press was new technology at the Tomah plant. The keys to quick changeover on the press are twofold: the use of sleeves for the print decks and the need to change fewer ink stations when shifting from one print job to the next. Both contribute to cutting down make-ready time between jobs.
"If I can set up several of my private-label designs under a single inking system, then Exopack's efficiencies have changed a great deal," says Ratterree of Fafard. "And that changes our pricing matrix, too. In my dual role as buyer and art director, this is important." Fafard uses GMF Flexo for prepress work.
Bob Kulesa, technical manager and process engineer at Tomah, agrees. "When we're running private-label material for Fafard, it's common that we don't have to change a lot of colors," he says. Still, he says, the plant has shaved at least 5 min/station from its changeover time. And he predicts it will only get better as the personnel become more experienced. However, he says that with 67"-wide sleeves, it often takes two people to handle them. Typically, he says, the press operates at 1ꯠ fpm, even though the plant has run it up to 1귔 fpm.
Kulesa says the plant last year had an initiative to develop a "NASCAR pit-crew mentality" about press changeover. "We've knocked down our set-up times by 10 to 15 minutes, so that represents about a 40% reduction," he states. "When we make a change, everybody knows his job and how best to do it efficiently. We still have room to get better, but we're probably at least as good as anyone in converting." Many of the ideas came from the people involved, using problem-solution charts, but Exopack also asked the press manufacturer for help, too.
Learning new registration
The pRegister system from AVT is also starting to pay big dividends for Exopack. Originally ordered with the press, Kulesa says it took the plant some time to become used to it. It employs a high-speed camera and software to read extra dots printed outside the image on the web. The software reads the dots and takes control of the press to adjust each printing deck.
"Now, we're putting these registration dots on all the new sleeves we have made," Kulesa says. "We're using it on about 25% of all the jobs on the press, but all the new ones. When we use all 10 color stations, it could take up to 40 minutes to get the registration perfect; now, with this system it takes about two to three minutes."
Translating that to reduced scrap, Kulesa reports that the registration system has cut scrap substantially. "In the past, we might have seen 1ꯠ pounds of scrap or more because we're running heavy-gauge material. Now we rarely generate set-up scrap of 200 pounds."
The proof, Kulesa says, is that Exopack is now running orders "long" instead of "short." Sometimes it means the plant stores extra material, but it's virtually eliminated having to rerun an order because it couldn't ship enough bags, he points out. With lawn and garden products, that's critical. "Ultimately, we have to ship by spring to our customers," says Fafard's Ratterree. "Timing is vital in the garden business."
Targeting the garden market
Exopack had had some experience with EB curing on the paper packaging side for pet food bags, Pfeiffer explains, and they liked what they saw. So the company specified the EB system when ordering the Flexpress from Fischer & Krecke.
Fafard is a relatively new customer for Exopack. "We knew that Fafard had been upgrading its packaging," Pfeiffer says, "and Charlie Ratterree understands packaging and graphics very well. For his private-label customers, this technology allows Fafard to offer something that other converters couldn't match. We ran our first bags for Fafard in January of this year, and since then, we've added a number of its private-label accounts."
"The EB coating creates the look and feel of a laminated bag," Ratterree says. "And when the rollstock comes off the press, it's ready for making into bags. We no longer have to wait until a printed web is laminated or cured. Since Exopack is eliminating the laminating step, we benefit on the cost side."
Exopack's Pfeiffer admits that EB technology requires a higher capital investment than UV curing. "That gap is narrowing, and we think EB technology is superior for the markets we serve," he says. "Fafard has a coefficient-of-friction spec for these bags, and we can provide it well with EB curing."
The Pike graphic design is not new, Ratterree says. "We first developed that approach for them about five years ago, but not then for EB-coated bags," he adds. Plus, he says, the change in bag materials is transparent to Fafard's packaging operation in Anderson, SC. "We can run these EB-coated bags interchangeably with other types of bags. That makes everything simple for our packaging operation.
"Sometimes you find a new technology that changes the way you think about buying bags," Ratterree points out. "EB is a simpler process, in my opinion, but it improves not only what I can offer to my private-label customers, it improves what I can do as a company. It adds something to our mix of products and packaging."
Companies in this article