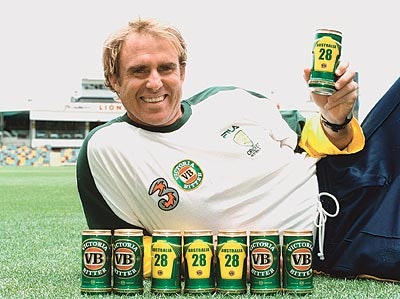 Produced by Amcor Australasia, the 375-mL aluminum cans were marketed through most of January to coincide with the 2003-04 VB Series One-Day Cricket International contests between Australia, India, and Zimbabwe.
CUB, Amcor, and brand/design specialists Igloo Marketing developed the can design. Jacqui Moore, CUB's manager of brands/public relations, says "the can commemorates the international one-day series. It's one can with 12 different graphic designs that show the popular VB brand name on the front and a 3-D-like image of a cricket jumper on the back with a number on it that correlates to one of the 12 Australian Cricket superstars, such as Matthew Hayden [pictured]."
A CUB press release says, "the custom-made cans demand a high degree of complexity, due to the cricket jumper arms forming an asymmetrical shape around the can and merging into the VB logo," which is embossed on the front of the can.
The two-piece aluminum cans stand 140-mm H, with a 62-mm diameter where the can is not formed, and 66-mm diameter at expansion points where cans are shaped. Cans use a 206-sized end that accommodates a standard ring-pull opening. The gold-colored ends provide a premium look and market differentiation according to Amcor, which makes them at a separate plant than the cans.
Cans are manufactured at Amcor's beverage can plant in Rocklea, Queensland. A draw-wall-and-iron process forms the can prior to necking. A screening process is used to decorate the cans. Ink is pressed onto a blanket, then transferred onto the can as it's held on a mandrel. Five colors are used for this can. Afterwards, cans go through a specialized shaping machine where the force of high-pressure air blows the walls of the can against a metal mold, at which time the final embossed shape is formed. Cans and ends are shipped separately to CUB's plant in Queensland for filling and pasteurization.
According to Amcor, no special filling was required, though minor modifications were required for the can's height, which is reportedly 10-mm taller than a standard 375-mL can.
"Developing this special-edition can has been a great challenge," notes John Murphy, CUB's marketing and sales vice president. "It's a great way for us to leverage our involvement with Australian Cricket, differentiate the brand, and improve the customer experience."
Cans are sold in a 12-pack carton, with three different designs per carton. "From a commercial point of view, our goal is to encourage repeat purchases by consumers in their attempt to build their team of all 12 superstars," says Moore. —JB
Companies in this article